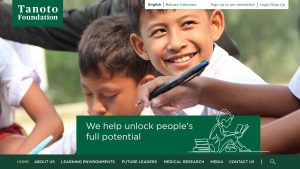 Broadening our international portfolio yet again, Crowd has recently launched a new website for the Indonesian based Tanoto Foundation.
Established by Sukanto Tanoto and Tinah Bingei as a philanthropic organisation in 1981, its aim is to help children achieve their potential and improve lives through quality education.
With pre-existing branding in place, our task was to deliver a website which not only highlighted the previous successes of this long established organisation, but also its current and future plans.
Regular content updates are essential to creating an online destination that visitors will want to return to, so Crowd delivered a WordPress solution that provides flexibility in page layouts combined with ease of editing: perfect for keeping SEO on track and social feeds updated.
Naturally with such a globally diverse portfolio, Crowd has worked with numerous languages requiring special attention to font choice, page layouts and providing a seamless experience for users. We can now add Indonesian to that ever-growing list.
On another successful launch, Crowd's CEO Jamie Sergeant said: "The team have delivered a site which forms a key part of Tanoto Foundation's marketing messaging and outlines the valuable work being carried out in South East Asia. We love working with clients who try to make the world a better place."
Crowd has a strong portfolio within the global education sector having also recently delivered a project for the Australian Government. 
Source: Crowd