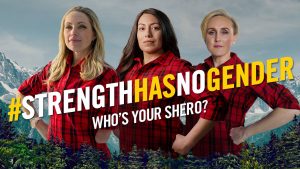 In recognition of Women's History Month, Georgia-Pacific's Brawny Paper Towels is back with the third iteration of its successful #StrengthHasNoGender campaign, created in partnership with its agency of record, Cutwater.
In 2018, the brand is asking: 'Who's your Shero?', encouraging people to share an inspiring story on social media using the hashtag #StrengthHasNoGender about a female hero who exhibits strength and resilience with the courage to help others. With the assistance of a dozen female comic artists and animators, these inspirational Shero stories will be brought to life through illustrations across the Brawny digital channels.
In addition, the Brawny brand has created a series of original films, including the stories of three inspiring Sheroes, outlined below. The brand has also partnered with Girls Inc. and will contribute $100,000 in support of its many different programs which inspire young girls to carry out the organisation's mission of being strong, smart and bold. Brawny will also support the initiative by releasing limited-edition products, featuring three different women in place of its brand icon The Brawny Man.
The three women featured in the films include:
Vanessa Casillas – a bricklayer, a Chicago Women in the Trades (CWIT) graduate in the top of her class and a CWIT Board of Directors member who overcame harassment and sexism in a male dominated field
Sarah Herron – Business owner that empowers girls with physical differences to build confidence and self-acceptance through outdoor adventure sports. She was also the first contestant from ABC's The Bachelor with a physical disability
Rachel Wilson – a Marine Corps veteran discharged after a knee injury, with background in equine assisted therapy, who helps her fellow veterans heal from trauma and overcome internal struggles post-service
"We're honoured to partner with Brawny in such an inspirational campaign for the third year, giving us the ability to highlight strong women and showcase their stories as a powerful example for generations of women to follow," said Chuck McBride, Founder and Chief Creative Officer at Cutwater. "Brawny has stood out as a leader in shattering gender stereotypes and bias and we're proud to join in celebrating that through this year's empowering #StrengthHasNoGender campaign."
"The goal of the Brawny #StrengthHasNoGender campaign is to promote female empowerment in ways that will surprise, inspire and move you," said Nicole Cook, Brand Building Leader at George-Pacific. "There are countless numbers of Shero stories that need to be told, and we want to provide the platforms to recognise these women who deserve the spotlight. We are proud to work with Girls Inc. again this year to provide support for their programs and extend the reach of the organisation's positive impact on young girls' potential."
Source: Cutwater