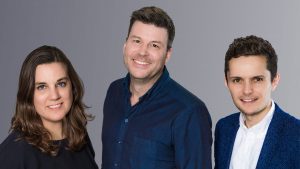 Digital agency Dare has announced the appointment of Caroline Sparkes as managing partner, alongside Chris Cavey and Scott Anderson as business directors.
Sparkes will report directly to Dare's CEO Michael Olaye, and will be responsible for the day-to-day operation of the agency as well as driving growth with new and existing clients, as the agency continues to strengthen its specialised digital offering.
She joins from Critical Mass, where she was business development & marketing director. During her time there, she played a key role in winning numerous new clients for the agency, creating strong growth across the Omnicom network and driving the London agency's business development strategy in line with the global remit. Prior to Critical Mass, Sparkes also held business development director roles at Huge and Momentum UK. Sparkes is also currently the chair of BIMA's marcomms council and sits on their governance board.
Cavey also joins from Critical Mass, where he held the position of senior client lead across Watford FC, Camper, HP and Vodafone. Anderson moves from Collective London, where he was group account director working across the Hyundai Motors, BP Fuels and BP Global Retail team. Together, their remit involves working with a collection of cutting edge products and services in behavioural science, design and engineering to help aid Dare's clients in digitally future-proofing their businesses.
Michael Olaye, CEO at Dare, comments: "With over a decade's worth of experience in developing business growth at home and abroad, Caroline's expertise and drive will help further cement Dare as the go-to digital design engineering company. She'll play a key role in driving growth at the agency and furthering our aim to make our clients excel in the digital economy. Chris and Scott are a perfect match for Dare; their united love for all things digital is undeniable, but it's married with a genuine human interest for clients. As Dare expands its offering going forward, Chris and Scott will be at hand to positively challenge clients and give them the best possible knowledge of what we offer and how it can benefit their work."
Caroline Sparkes, managing partner at Dare, adds: "This is an exciting time to be at Dare as the agency evolves into one of the industry's leading digital powers. I'm thrilled to play a key role in this journey, as Dare continues to deliver excellent digital work across the spectrum of clients for established brands and the household names of tomorrow."
Source: Dare