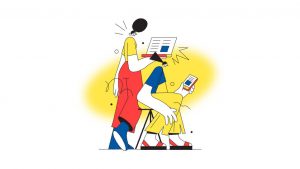 Experience, design and engineering company Dare has announced its partnership with SuperHi, the online coding school and creative community, to launch a scholarship for women and non-binary people. The two winners of the scholarship will receive free access to the complete suite of SuperHi courses, while runners-up will bag SuperHi's Foundation HTML, CSS and Javascript course.
The new partnership aims to elevate SuperHi's enrolment split of 47 percent female, 2 percent non-binary and 51 percent male across fifty countries, offering women and non-binary people access to a practical, fun and stress-free learning environment. Promoting inclusion across the board, it's rooted in the shared belief that education should be accessible to all, whatever your financial situation or background.
Dare places huge importance on supporting initiatives that walk the walk, positively moving the industry forward to achieving an inclusive workforce; that's been reflected in some impressive organic results. The agency currently has a 57:43 gender split, median pay gap of just 4.11 percent and 30 percent BAME workforce.
The move serves as a step into Dare's new paid internship programme, which will launch later this year. The scheme will work closely with key partners to ensure the learning experience is as rich and future-proof as possible. Successful applicants will embark on a programme spanning key industry-focused areas including experience planning, UX/UI, design and technology as well as helping nurture soft skills, further developing emotional intelligence, and building out the individuals' networks to help set them up for success.
Michael Olaye, CEO at Dare, says: "SuperHi goes above and beyond to champion diversity, inclusivity and, above all, talent; this resonates with Dare's core values, so this partnership is a real no-brainer. Sometimes internships can be accused of giving young people a skewed version of what the real world looks like – now we have SuperHi on board, with several others to follow, we can get on with developing a fuller, more representative vision for our interns."
Adam Oskwarek, COO at SuperHi, says: "Education should be accessible to all, irrespective of background, just as everyone deserves the opportunity to do creative, challenging and fun work. Dare understands this, and that's why it's one of the partners for our latest scholarship. We're delighted to work with them side-by-side with our other partners. Michael and his team are all pushing for diversity and equality, because they know it's the only way to build a fairer, better creative industry. One that's representative of the communities we all live in together."
Applications for SuperHi's scholarship are open until 11;59pm on 31st July 2018, and can be entered here. More details regarding Dare's internship scheme will be revealed in due course. Other partners supporting the initiative include Figma, Glug, Marvel, Studio Moross and ustwo.
Source:Â Dare