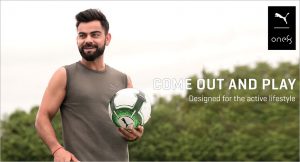 Following a multi-agency pitch, Puma India has appointed Digitas, a Publicis Groupe company and India's largest digital agency, as its digital partner for the Puma range as well as One8 – Virat Kohli's brand that is powered by Puma. The mandate includes digital creative, social media, content and advocacy.
On partnering Digitas, Debosmita Majumder, Head of Marketing Puma India, said, "Puma needs a certain sensibility from the teams that market it. We found that the Digitas teams just get the world of Puma and their passion was infectious. We have ambitious plans for the India market in the coming year, and look forward to having Digitas on board as a partner."
Amaresh Godbole, CEO Digitas India, said, "Puma has always been one of the leaders in creating head turning work that immerses the brand in popular culture. It's a moment of pride for us to partner them. With the kind of sporting and cultural calendar ahead of us in 2019, it's the perfect time to kick off this partnership and we are all geared up to do some cutting-edge work for this iconic brand."
Puma India is headquartered in Bengaluru, and the mandate will be handled by Digitas' newly launched Bengaluru office.
Source: Digitas