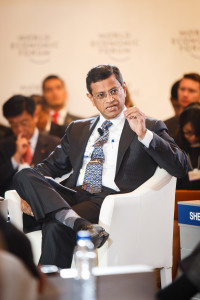 Blippar, the leading image recognition and visual discovery platform, today announced that former Nestlé S.A Global Executive Board Member Doreswamy Nandkishore has officially joined the company as its first external non-executive board member.
Nandkishore will be helping advise the company in its increased focus on brand and marketing strategy across the company's full portfolio of industry leading clients including Coca-Cola, Condé Nast, Heinz, Jaguar, PepsiCo and Procter & Gamble.
Nandkishore, known throughout the industry as "Nandu," brings 33 years of global experience in consumer packaged goods across both emerging and developed global markets including 26 years at Nestlé, the world's largest food and beverage corporation. Most recently he served as Executive Board Member for Nestlé, where he was responsible for Asia, Oceania & Africa. Previously, he was Executive Board Member & Global CEO for Nestlé Nutrition.
"Blippar is driving an entirely new behavior – visual browsing and discovery – and is the global leader in image recognition and augmented reality experiences," said Nandkishore. "The company's proprietary technology has the power to totally transform the way brands engage with consumers. By overlaying the physical world with personalized augmented reality technology, Blippar provides consumers the ability to draw great content and engaging brand experiences directly from their favorite products. As a non-executive director and mentor, I will be further informing the market about Blippar as the leading choice for brand-builders across the world."
"As we continue our mission to activate the world with Blippar, it is increasingly important for us to become experts at digital brand and marketing strategy for our clients, and no one has been more successful at fostering and growing brand talent than Nandu," said Ambarish Mitra, Blippar CEO and Co-Founder. "He brings extensive brand-building and cross-cultural leadership experience, alongside a proven track record of delivering consistent long-term results. He is also passionate about proliferating new technologies that will help us to reshape the world. He will undoubtedly play a vital role in helping us to become an even more effective strategic partner for brands on an international stage."