This summer marks what is set to be the biggest Women's World Cup to date. To celebrate this momentous event, DW Fitness First, one of the largest privately owned health and fitness providers in the world, partners with international sporting goods retailer, Intersport.
In collaboration with independent creative agency Hatch London and media brokering agency Electric Glue, they launch a new campaign to champion the growing participation of female athletes this summer and to support women wherever they are on their fitness journey. 
Electric Glue and Hatch London worked together to create the 'It's our Time – #OWNIT' campaign bringing together DW Fitness First brand partners including Adidas, Reebok, Nike, Puma, Under Armour, Speedo and New Balance across a variety of sporting disciplines, and a broad spectrum of female sporting athletes.
The 30-second multi-brand films feature Sky Sports presenter and DW brand ambassador, Anna Woolhouse, who is joined by other star female athletes and brand ambassadors including the Neilsen Sisters, Ada Hegerbeg and Gina Moses.
In each film, Anna Woolhouse discusses what has inspired these women to be the best in their fields and what they have overcome to be truly inspirational female figures. The campaign takes audiences across the UK and Ireland on a journey through these women's diverse stories.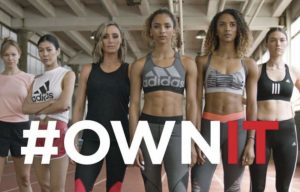 Working in close collaboration with DW Fitness First, Electric Glue developed a high-impact media strategy across the brand's storytelling channels.
Darius Karbassioun, Managing Partner at Electric Glue, comments: "This campaign brings together an amazing array of talent from the world of sport. With fresh and insightful content created by Hatch, the idea comes to life across the Sky ecosystem with sponsorship, airtime, talent partnerships as well as red button and editorial support."
Mark Gibson, Managing Director at Hatch London, added: "Hatch and Electric Glue have worked seamlessly together to create one of the most powerful media rich campaigns we have ever worked on. Creating seven inspirational two-minute films which flow into the media and client ecosystem is fantastic testament to the power of a great idea."     
The 30-second multi-brand film will be supported by seven two-minute films for each partner brand, complemented by Instagram Stories, featuring live content from the shoot. This activity will be supported by DW Fitness First and Intersport's sponsorship of Friends on Comedy Central. The campaign idea is backed up by full integration into DW Fitness First gyms and stores and across their online ecosystem.
Source: Hatch London