Electronic Arts Inc. announced the official launch of EA Sports UFC 2, available in retail stores and as a digital download on Xbox One and PlayStation 4. The game features the largest roster ever for an official UFC game, boasting more than 250 athletes, including cover stars, UFC featherweight champion Conor McGregor and former UFC bantamweight champion Ronda Rousey, as well as all-time fighting legends like Mike Tyson, UFC Hall of Famer Bas Rutten, Kazushi Sakuraba, and Bruce Lee – all unlockable by making it to the UFC Hall of Fame in Career Mode.
EA Sports UFC 2 also introduces a Knockout Physics System that, when paired with thousands of new animations and updated character likenesses, makes knockouts more dynamic and realistic than ever.
"By listening to fans, sharpening our fundamentals, focusing on areas of innovation in gameplay, and adding massive depth to modes, we believe we've taken the franchise and MMA games to the next level with this one," said EA Sports UFC 2 Creative Director, Brian Hayes. "We're excited that it's finally time to ask fans to stare back at their opponent, bite down on their mouth piece, come out swinging and finish the fight."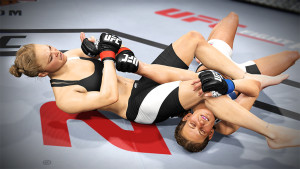 EA Sports UFC 2 delivers a mode for every fight fan, including the series introduction of Custom Event Creator, UFC Ultimate Team, and Live Events which allow players to gain in-game rewards for playing out real-world fight cards before they happen.
The game also features the brand-new Knockout Mode, which does away with clinches, grappling and submissions in favor of pure heart-pounding, stand-up fighting action. However, when fights do go to the ground, EA Sports UFC 2 gives fighters the tools to master mixed martial arts (MMA), including Grapple Assist, a new graphic overlay that helps fans dominate the clinch and find their next move on the ground.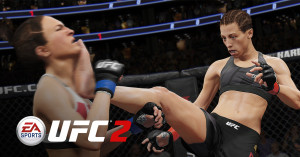 "This game is an authentic representation of the UFC brand experience, bringing the excitement of the Octagon to life for all fight fans," UFC Senior Vice President of Global Consumer Products, Tracey Bleczinski said. "From the walkout, incorporating the new UFC Fight Kit, to the intensity of being face-to-face with the top combat sports athletes in the world, this game has it all."
EA Sports UFC 2 is developed by EA Vancouver, and is available now in North America and will be available March 17 worldwide on Xbox One and PlayStation 4. EA Access members can try the full game for a limited time and get 10% off the digital version of the game on Xbox One.