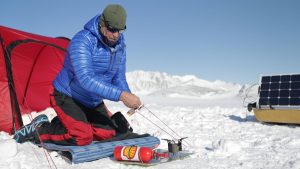 In a deal brokered by entertainment, sports and lifestyle marketing agency United Entertainment Group (UEG), parent company, global communications marketing firm Edelman, together with international content creator, producer and distributor Endemol Shine Group filmed and produced a world-first content series documenting a record-breaking expedition to the South Pole using only renewable energy, including biofuels developed by global energy company Shell.
Produced exclusively for Shell to help inspire young people about future energy solutions and position Shell as a company pushing the boundaries in renewable energy innovation, the documentary series followed world-renowned polar explorer Robert Swan OBE and his 23-year-old son Barney as they embarked on a first of its kind mission to reach the South Pole, powered solely by renewable energy sources.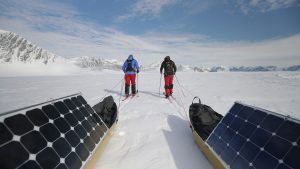 The South Pole Energy Challenge was produced and filmed across four continents, by Endemol Shine company, Electric Robin. In another ground-breaking initiative the campaign was shot for mobile exclusively across social media platforms, with vertical Facebook content a leading element of the campaign.
The earned and social media programme developed by Edelman aimed to turn the 56-day expedition in white, bleak conditions into something attention grabbing for a younger audience. Consisting of 44 pieces of content in total, to date it has generated over 21 million video views across Shell's social media with more than 2.5 million engagements. Global earned coverage from the campaign has reached close to a staggering 600 million people.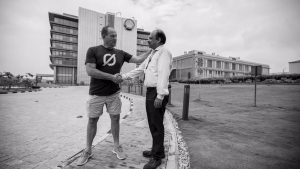 In addition to the short form video, assets included 3D gifs, infographics, cinemographs, stills, audio and the world's first immersive, interactive, geographically accurate, real-time map which allowed followers to feel like they were on the journey with the explorers.
James Hayr, Head of Global Sales, Endemol Shine Group, comments, "The South Pole Energy Challenge is a compelling and culturally relevant story, tapping into the zeitgeist of today's global digital audience. Curating and optimising this ground-breaking campaign from such an extreme location threw up a whole host of challenges for our incredibly talented production team to overcome. The real hard work was down to Robert and Barney but the support team around them documenting the journey deserve a huge amount of credit."
Tim Collins, UEG MD added, "The South Pole Energy Challenge was a great example of how the robust offerings from UEG, Edelman, Endemol Shine and Shell can join forces to bring to life this epic story of strength and extreme determination. The incredibly moving content we collaborated on has enabled Shell to inspire a younger audience about the future of energy technology, and to encourage new thinking and behaviours towards energy. UEG was extremely honoured to take part in this ground-breaking campaign. We're proud of that fact that our strong relationships and counsel resulted in such a successful initiative for Shell."
The South Pole Energy Challenge can be viewed across Shell's social media platforms including Facebook, Instagram and YouTube.
Source:Edelman