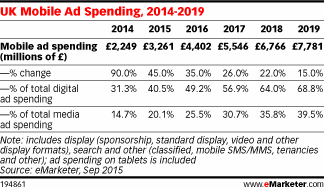 For the first time this year, mobile advertising expenditure in the UK will overtake spend on print advertising, according to the latest forecasts from eMarketer. Mobile ad spending has shown significant growth in recent years and is expected to rise 45% this year to over £3 billion ($4.94 billion) and will account for 20% of total media spending in the country.
By comparison, spending on print will reach £2.67 billion ($4.40 billion), or 16.4% of total UK media spending in 2015.
Mobile will continue to make gains on other formats across the forecast period and will soon rival spending on TV. By 2016, one year after mobile passes print spending, TV's share of UK total media ad spending will fall to 24.8% as mobile increases its portion to 25.5%. The following year, mobile will become the single largest ad channel in the UK market.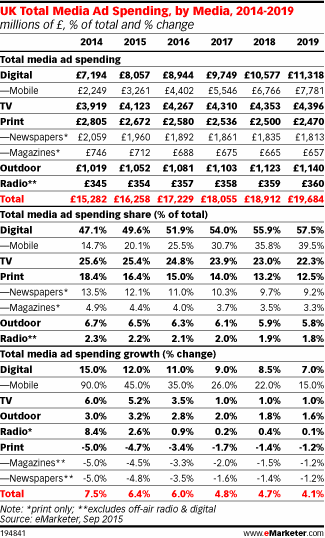 Continued robust growth in the mobile channel is driving the bulk of digital ad growth in the UK. eMarketer estimates that mobile will account for 40% of all digital ad spending this year, with this figure rising to almost half by 2016.
In 2014, digital ad spending increased by 15.0%, and this year, digital will slow slightly to 12.0%. But that's still much faster growth than that for total media ad spending, which will increase by 6.4% this year to around £16.26 billion ($26.77 billion). Digital will account for half of all paid media ad spending in the UK next year, according to eMarketer's forecast.
eMarketer's forecasts and estimates are based on an analysis of quantitative and qualitative data from research firms, government agencies, media firms and public companies, plus interviews with top executives at publishers, ad buyers and agencies. Data is weighted based on methodology and soundness.
Each eMarketer forecast fits within the larger matrix of all its forecasts, with the same assumptions and general framework used to project figures in a wide variety of areas. Regular reevaluation of available data means the forecasts reflect the latest business developments, technology trends and economic changes.