Leading energy drinks brand, Carabao, will premier its first ever TV ad campaign, during the break of ITV's Coronation Street at 20:45 on Wednesday 1st August, reaching an estimated 4.5 million viewers across the UK. Also airing on TV and Video On Demand throughout August across ITV, Sky and Channel 4, the ad debuts Clive the Carabao; the face of Carabao.
Building on Carabao's current successful The Bonkers Drink For Bonkers Lives campaign, the ad brings to life Carabao's unique brand story, which is unlike any other energy drink. Invented by a rock star – Aed Carabao – and named after a water buffalo, the creative demonstrates Carabao's on-going mission to give hard-working men and women in the UK a boost of energy to help them get through their busy lives: introducing Clive the Carabao.
Voiced by iconic voice-over artist and actor Jason Nwonga, the ad takes viewers on a journey that brings to life the Bonkers Drink For Bonkers Lives strapline through Carabao's brand history – from rock star Aed Carabao to its birthplace in Thailand – before clearly showing who the drink is for.
Designed to help consumers understand that Carabao is a great tasting energy drink with a mission to give customers a boost of energy, the ad clearly demonstrates the inclusive audience it serves; from adult men, women and commuters, to working mums and students.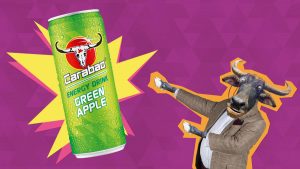 The final part of the ad puts the spotlight on Carabao's current cash prize competition; Mr Carabao's £1m Giveaway. With already 11,000 winners to date that have together taken away over £85,000 – and the biggest single cash prize so far a whopping £5,000 – Carabao is giving consumers a staggering 114,000 opportunities to win, with a cash prize awarded every 60 seconds and a top prize of £50,000 up for grabs.
The ad, which was devised by Snap LDN, also dovetails Carabao's latest press, poster and radio campaign, which first introduced The Bonkeƒrs Drink For Bonkers Lives strapline to the UK, and builds on the recent major We Are Female Fans initiative, which aimed to change negative female football fan stereotypes. Carabao's on-going investment in its audiences and wider marketing initiatives demonstrates its commitment to serving a wider mass market audience than any other energy drink, and driving further growth in the energy drinks category as a whole.
John Luck, CMO at Carabao, said: "We're immensely proud to be launching our first TV ad campaign tonight, and we're sure that the public will take to Clive the Carabao as quickly as we have. The aim of the TV ad is to continue to drive growth in the category by promoting our great tasting low and zero sugar drinks to a broad adult audience. All our drinks provide a boost that all of our energy-starved and busy consumers need to get them through the day, and with the opportunity to win a share of £1m via our on-pack promotion – people have a chance to get a financial boost too!"
Snap, added: "We had a ball creating our bonkers campaign for Carabao earlier this year. This TVC ad is a wonderful extension of the campaign – the bonkers icing on a crazy Carabao cake."
Carabao's energy drinks remain exclusively low or no sugar, with the promotion available in each available flavour, including Original, Original Sugar Free, Green Apple, Green Apple Sugar Free and Mandarin Orange.
Source: Snap LDN