Building on their ambitions to be more than just another mobile network, VOXI are launching a new campaign that provides a platform for young artists, with the support of some of the UK's most renowned illustrators.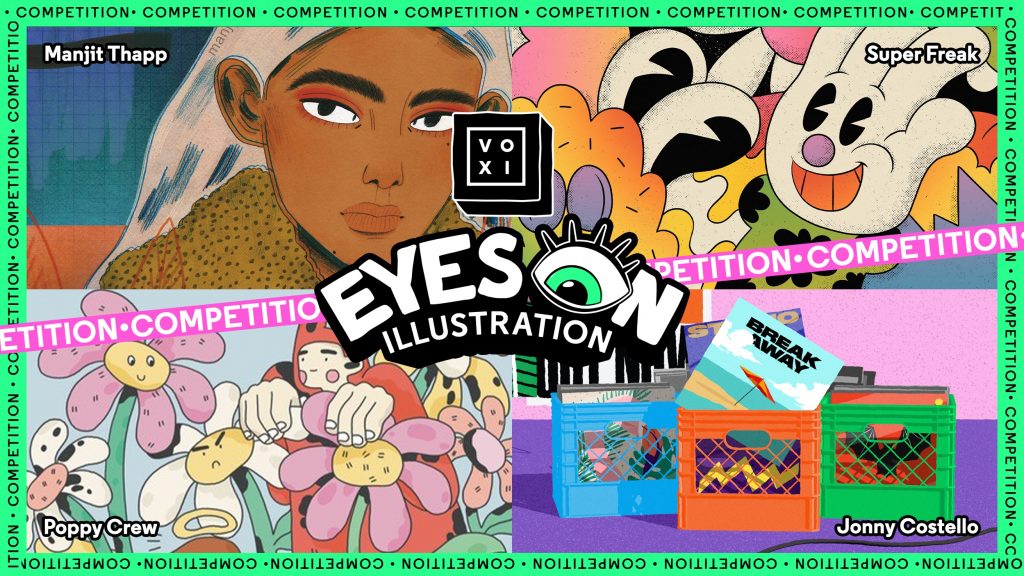 Over the past 12 months, the creative industries have been hit hard by the pandemic, with virtual degree shows and cancelled networking events limiting those opportunities for new artists to get their work seen. The VOXI Eyes On campaign aims to help those who really need it, by giving artists all-important exposure, as well as providing mentorship, and opportunities to get their work seen.   
VOXI champions self-expression, giving its young audience Endless Social Media to explore their identities and find inspiration without limits. To enter the Eyes On campaign, up-and-coming artists are encouraged to submit a digital illustration inspired by the brand's proposition and phrase 'Be Endless'.
Some of the top names in illustration have joined the campaign as judges, including Manjit Thapp, Super Freak, Poppy Crew and Jonny Costello.
The winner will get seriously career-changing prizes: from £2,000 in prize money, to a collab with VOXI to feature their winning work on the brand's socials, site, and T-shirt merch, to 1-1 mentoring sessions with head judge Manjit Thapp, plus tips on how to build their personal brand and social presence from Instagram's Global Product Lead, Jimmy Lee, as well as having the opportunity to sell their artworks worldwide on Fy! – the popular home, living, and lifestyle retail platform. Entries close at 23:59 on 18 April 2021. 
VOXI is also teaming up with LADbible to promote entries and awareness in a drive to showcase the UK's hottest new talent. For more on the competition and how to enter, visit https://track.tlink.re/l/2041c5bc/ea00/4adc/8921/8e2192d1ef5d
The campaign goes live on 1 April and will run across Instagram, Facebook and Twitter, with additional PR handled by Iris London.  
Credits:
Creative Lead: Kate Craggs
Art Director: Spencer White
Design Leads: Nick Raven, Matt Walton
Designers: James Atkins, Ben Jewkes, Asli Pehlivanli
Creative Director: Tom Harman
Account Director: Jen Allen
Account Manager: Alice Fews
Associate Social Director: Olivia Wedderburn
Social Media Manager: Thom Petrucci
Influencer & Partnerships Manager: Sian Wetherhill
Senior Planner: Fred Brinton
PR: Iris London
Source: TMW