Facebook has confirmed plans for a new Suggested Videos feature that will suggest other videos a Facebook user might want to watch when they finish watching a video from their Newsfeed.
In a blog post, Facebook VP of product management, Will Cathcart, says that while the company is still in the early days of testing, it's pleased with initial results, which show that people who have suggested videos are discovering and watching more new videos.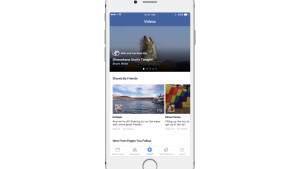 Facebook has now rolled out suggested videos to most people on iPhone globally, and is starting to test ads as part of the experience. Given the number of video views on Facebook – around 4bn daily at the last count – that should have YouTube feeling more than a little nervous. Facebook is also starting to test Suggested Videos on the web, and will roll out tests on Android phones in the coming months.
Facebook is also trialling a floating screen video view to enable its users to do other things on Facebook while watching a video, as well as a button that will enable users to save a video to watch later.
Finally, Facebook says its planning to create a dedicated place on Facebook for people to go when they want to watch videos. A new 'Videos' icon at the bottom of the Facebook app on iPhone will offer quick, one-tap access to the Videos section.