Launch activation agency, Five by Five, has created a 360-degree virtual reality (VR) video on behalf of global contact lens manufacturer, CooperVision, to support the launch of its new Biofinity Energys contact lens. Eye care practitioners will be encouraged to utilise this technology to transform their patient waiting room into an educational experience, informing customers about digital eye fatigue alongside the product benefits, in advance of their eye test or check-up.
Biofinity Energys is a monthly contact lens specifically designed for people's digital lifestyles, helping combat the eye tiredness and dryness associated with digital device use.
CooperVision tasked Five by Five with creating a communication tool in support of the launch of Biofinity Energys, across 14 European markets, to help create awareness, facilitate distribution and drive product trials in the first 12-18 months.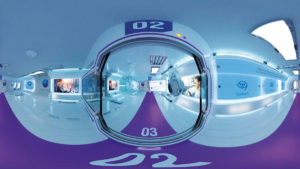 The VR video, which can be used with or without a headset, immerses the viewer inside a high-tech Biofinity Energys laboratory. Taken on a journey through the lab by a virtual robot, users come across information points containing pictures, graphics and text highlighting the key product benefits. With the content appearing on the screen as floating and slightly transparent, this futuristic setting also allows the viewer to be introduced to the technical details of Biofinity Energys, such as its unique Digital Zone Optics lens design.
Commenting on the development of the video, Paul Archer, Art Director at Five by Five, said: "As this was the first time CooperVision had ventured into VR, we wanted to create a modern and playful way of educating audiences about the symptoms of digital eye fatigue and show how Biofinity Energys can address these.  By using a futuristic environment, we designed the VR world to reflect the advanced technology and years of research that have gone into creating this next-generation lens."
Rob Healey, Head of Brand, Europe, for CooperVision added: "Five by Five has done a fantastic job in creating a truly engaging way of presenting eye care practitioners and consumers with the facts around digital eye fatigue and the product benefits of Biofinity Energys. The VR video is the perfect way to communicate with our audience and we can't wait for people to take a step into the future and have a look around our new 'lab'."
Source: Five by Five