Former BBC weatherman Michael Fish kicks up a storm with some fishy predictions for 2016 in a video released today.
Fish tackles trend forecasting for the year ahead – confidently predicting that goose GIFs will be 'huge' next year, that beards are over and that 'bald' is the hot new hipster hair trend for 2016.
The famous BBC meteorologist, now 71, also calls time on cocktails in jam jars, vaping and 'Netflix and chill' in a spoof trends video released by London creative agency Taylor Herring.
Beards are 'OUT' and bald is 'IN' according to forecasting veteran

Alphabet Spaghetti will be a hot new hipster restaurant trend next year

Apple will release jacket technology next year – 'an iPad with sleeves'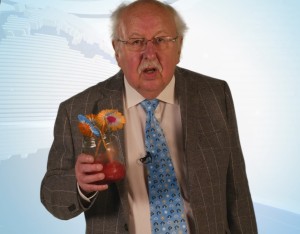 "Taylor Herring asked me to come up with some well researched, scientifically justifiable predictions for social and media trends in 2016," Michael said.
"I was delighted to help. But having no experience in this field whatsoever I did the only thing I could. I made a lot of wild uneducated guesses. I found that predicting hipster restaurant trends wasn't that different from tracking hurricanes. They are both filled with plenty of hot air." 
In the film, the forecasting pro reveals what we can expect from 2016, making some surprising predictions about what will be the top trends.
According to Fish, the huge popularity of pop-up restaurants in 2015 is only set to continue and we are in for a gastronomic treat with single-item menu restaurants offering cheese triangles, alphabet spaghetti and prawn cocktails expected to open in East London.
Other predictions include 'scratch and sniff' making a return to print media, allowing for a more interactive news-reading experience. This will be coupled with a widespread adoption of the much-maligned font Comic Sans, says Fish.
Further expectations include a nationwide technological about-turn with the VHS set to make a comeback as digital formats are rejected for retro alternatives. And perhaps most surprisingly, and to the detriment of Hipsters everywhere: "beards are out, bald is in."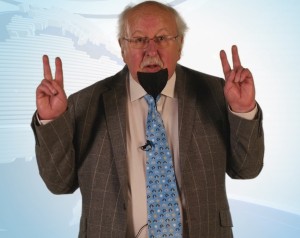 Taylor Herring has picked up 8 major industry awards this year – and is famous for branded content campaigns, viral videos and marketing stunts.
Michael Fish's top trend predictions:
Alphabet spaghetti theme restaurants – to become a hipster trend

Beards are out

'Bald' is going to be absolutely massive

Goose GIFs will be huge

Widespread adoption of maligned font Comic Sans

Increase in ironic fondness for Jim Davidson in offensive pantomime

After the Apple Watch will come the Apple jacket – an iPad with sleeves

Scratch n' sniff to make a return