Garde-Manger Pour Tous, the NFP serving 3,000 underprivileged Montreal-area youth, has partnered with Cossette and Cossette Media to raise public awareness around the fight against child poverty and malnutrition this holidays.
"The holidays are a time for us to reflect on how fortunate we are to live in abundance – however, it's also an opportunity to understand that some aren't as lucky" said Ghislaine Théoret, Director of Garde-Manger Pour Tous. "An estimated one in six Canadian children are faced with food insecurity, and the Montreal area has the highest child poverty rate in Quebec."

To reflect the daily realities of children living with food insecurity, the campaign puts a meaningful twist on a Christmas tradition: the Advent calendar. Appearing on outdoor signage, online and social networks, this version of the calendar features the usual doors, but while some open to reveal a chocolate, others only reveal an empty space—a nod to the organization's tagline since 2014, "Help Us Fill the Emptiness." The three colourful, festive designs used in the campaign were created in conjunction with local illustrators Geneviève Bigué, LaCharbonne and maxprevo.
In addition to the ad campaign, over 100 copies of the Advent calendar were handed out to Quebecois influencers and across the charity's and the agency's networks. "The idea here is that the item itself acts as the message. The calendars become actual awareness-raising tools for the cause as well as Garde-Manger Pour Tous's mission," explained Anne-Claude Chénier, Vice-President of Creative Advertising at Cossette.

Creative media – 0 Times a Day
In keeping with the spirit of the campaign, Cossette Media partnered with highly popular Quebec-based recipe blog 3 fois par jour. Today, visitors to the site will notice a new, impactful logo, 0 fois par jour (0 Times a Day), as well as empty plates and recipe cards in GMPT colours. This creative media approach allowed the Garde-Manger to intercept visitors to the website at the exact moment they were planning their holiday menus.
"3 fois par jour and OBOX were phenomenal partners in achieving our vision and supporting Garde-Manger Pour Tous" noted Axel Dumont, SVP and General Manager, Quebec and East, at Cossette Media. "By working together from the onset, creative and media agencies have the ability to create impactful ideas and strong results — and Garde-Manger Pour Tous' campaign demonstrates precisely that."
Garde-Manger Pour Tous also received support from media partners like Astral Media, Bell Media, La Presse, OBOX., Outfront, Ricardo Media, and UB Media.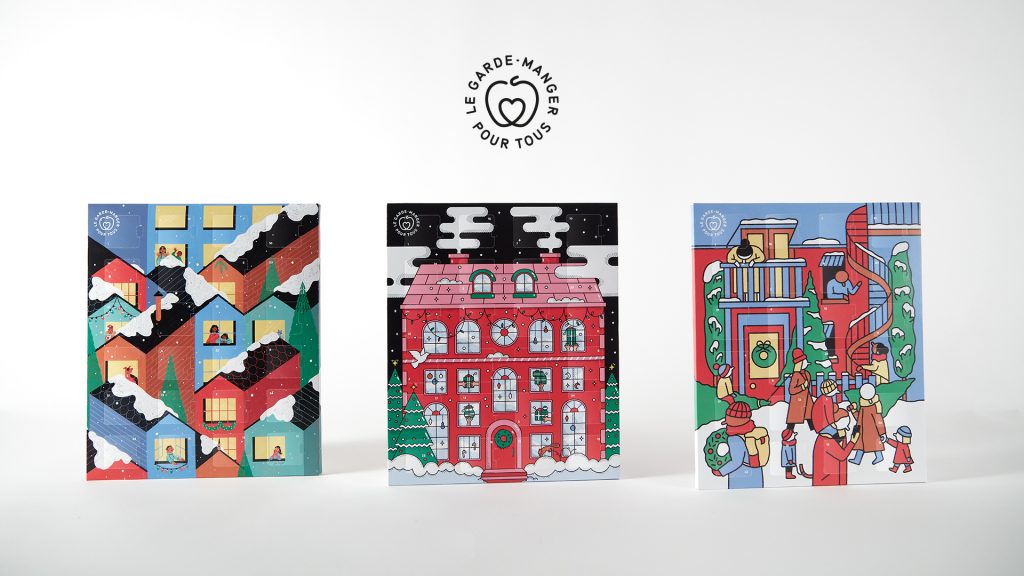 Credits
Advertiser:  Garde-Manger Pour Tous
Agency: Cossette
Creative: Anne-Claude Chénier, Barbara Jacques, Marc Lessard, Annik Tremblay-Meunier, Julia Quesnel Welch, Élisa Serin-Leroux
Product: Lorraine Grouvel
Media agency: Cossette Média 
Media: Anne-Sophie Collins
Public Relations: The Colony Project
Illustrations: Geneviève Bigué, Camille Charbonneau (LaCharbonne), Maxime Prévost (maxprevo)
Production house: Septième
Production: Dominique Dufour, Alexander Bain, Colette Dumay, Mélissa Choquette (print production), Émilie Meunier, Yoan Boisjoli (electronic production)
Chocolates: Juliette & Chocolat
Source: Cossette