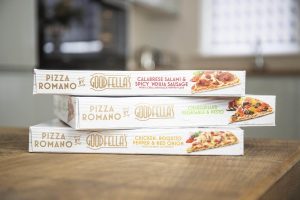 Following the recent acquisition of the Goodfella's Pizza brand from "Green Isle Foods Ltd", (a subsidiary of Borparan Holdings Ltd), Nomad Foods Europe has appointed Grey London as the lead creative agency for the frozen pizza brand for the UK and Ireland.
Grey will be working with Goodfella's on creating an exciting new multi-channel campaign to support a full brand relaunch in 2019.
The campaign will be focused on a renewed purpose and positioning for the brand, which will see a return to its original Italian American roots.
Goodfella's was established in 1993 and is the number one frozen pizza brand in Ireland and number two in the UK, growing at 4.6% and 7.9% respectively (according to 52 week ending Kantar and IRI data to June 17th 2018)
With a planned multi-million pound investment, the new Goodfella's campaign will run across TV, online video and social and will mark the biggest level of spend ever seen on the brand.
Steve Challouma, Marketing Director for Birds Eye comments, "The relaunch of Goodfella's will mark the beginning of a transformational journey for a well-loved brand. Along with the step change in investment that Birds Eye will bring we are excited to further establish Goodfella's as the UK and Ireland's favourite frozen pizza."
Source: Grey London