Grey London – part of WPP's Team News – has created a series of 26 short films ahead of the Rugby World Cup to celebrate The Times & The Sunday Times' coverage of the tournament and to act as a glossary to both rugby aficionados and casual fans alike.
The A-to-Z of the Rugby World Cup sees the papers' all-star team of former players and expert writers debate key tournament topics like 'All Blacks', 'Home advantage', 'Quick ball', 'Underdogs', 'Rules' and 'North vs South'.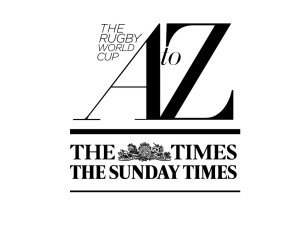 The film series was directed by Myles Desenberg through Archer's Mark and launches on Monday 14 September ahead of Friday's opening fixture.
It features former rugby stars Lawrence Dallaglio, Sean Fitzpatrick, Gareth Thomas, Shane Horgan, Ben Kay and Tom Shanklin – all of whom will write for the Times & The Sunday Times for the duration of the tournament – as well as the papers' expert writers including Stuart Barnes, Stephen Jones and chief rugby correspondent Owen Slot.
Andy Lockley, Creative Director, Grey London says: "The Times and The Sunday Times boast some of the most respected and award-winning sports writers in Britain. For this tournament, they have bolstered their ranks with a host of rugby legends, three of whom have actually lifted the Webb Ellis Trophy themselves. With The A-to-Z of Rugby, we wanted to simply provide a platform for these brilliant, highly diverse rugby minds to share their opinions, predictions and insights."
Myles Desenberg, director, adds: "The aim throughout these films was for these incredible personalities to come across as natural and informative as possible. We wanted to draw from their own personal experience, insight and understanding of the game in a candid, uncontrived way. Thanks to its familiarity, the setting allows for both a dramatic and visually engaging space where the journalists had the freedom to forget the cameras and open up about the sport that they love. It's the human element within these films that is the most important aspect; the physical nature of sport offers fantastic opportunities to capture visually rich content, but by marrying this with honest, heartfelt and inspiring stories these types of films have the potential to be an amazing sensory experience."

Chris Duncan, Chief Marketing Officer at News UK, adds: "As host of one of the biggest sporting events in the world, we're committed to giving readers in England, Ireland, Scotland and Wales the best and most informative coverage of every game across each of our platforms. If you're as passionate about rugby as we are, our dedicated site is THE destination for all the action and emotion of what looks set to be an unforgettable World Cup. We'll also have video highlights of all games available in our tablet editions (including our newest edition in Ireland) for members who want to relive the moments that make history along side the analysis and insight from our Ultimate Team of writers."
The papers' coverage includes news, results, comment and in-depth analysis from its stellar line-up of experts, as well as 'The Scrum' – a 12-page supplement filled with fixtures, team line-ups and comment pieces – published every Friday and Saturday throughout the tournament.