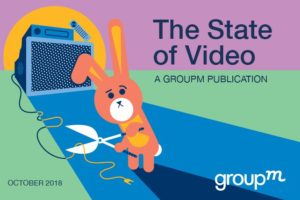 GroupM, WPP's media investment group, released its second annual 'State of Video' report offering intelligence on consumer video consumption, advertising platforms and demand. Among a series of GroupM reports on the future of advertising, the new publication is co-authored by GroupM's Futures Director, Adam Smith, and Senior Advisor, Rob Norman.
It provides in-depth commentary on key trends concerning advertisers: declining linear TV viewing, new addressable television capabilities, competitive digital video platforms, measurement, cord cutting and more.
State of Video Highlights:
Linear TV Viewing Continues Declining: Globally in 2018, linear TV has shown no new signs of life; ratings continue to fall, even with mainstays like the National Football League (U.S.). Despite this, linear TV has sustained advertiser demand, implying the perception that linear TV is as effective and essential as ever, but for how long and in what balance relative to alternatives?
Measurement Even More Important: Measurement has always been essential to accountability, planning and optimisation and in the more fragmented world, it's even more so. Data is used in planning and buying, but is most prevalent in the former. The industry must solve for a measurement solution enabling better understanding of viewing patterns across all screens and channels. This is still a couple of years away even in the most advanced markets. BARB's Project Dovetail in the U.K. may set the example, albeit with imperfect inclusion, and is expected to combine current TV panel and census data with data from mobile devices.
Addressable Television: Addressable TV is on the rise but far from ubiquitous. However, 2018's mega-mergers may catalyse change. Several company combinations enable vertical integration between content and distribution, creating significant scale with homes served and content viewed. Should these merged companies succeed in making their owned inventory fully addressable on their platforms, it will help realise the long-promised future where TV is a more efficient, targeted and digital-like medium.
Digital Forces: Amazon, Facebook, Netflix and YouTube remain the top challengers to TV's incumbent media owners. Among ad-supported players, YouTube leads with a staggering number of non-traditional premium content producers. YouTube's scaled audiences have been embraced, to varying degrees, by major advertisers. Facebook and Amazon have become competitive acquirers of sports rights in tentative but telling steps this year. While the success of the newly launched Facebook Watch is unclear, Facebook's future in video should not be underestimated.
"The ranks of television advertisers are swelling with new entrants, mostly direct-to-consumer businesses that have exhausted all the reach and awareness 'performance' media afford them. It's reminiscent of the dot-com boom for television in the late 1990s; maybe it will end better this time. One thing is for sure: linear television is still perceived to be as effective as ever, despite the absence of granular measurement," said Norman.
Visit www.groupm.com to download the 2018 State of Video report.
Source: GroupM