Guardian Jobs is adding further weight to its initiative to offer free job ads for NHS listings, by launching a supportive marketing campaign aimed at driving awareness and traffic to the ads.
Announced last week by Guardian Jobs' director of sales and marketing, Gemma Hennen, the move aims to help fill urgent NHS roles during the coronavirus outbreak.
In the first phase of the initiative NHS recruiters were provided details of the Guardian Jobs initiative, the focus now includes driving consumer awareness of the job ads and encouraging applications.
The creative will feature across the Guardian, during one of the busiest traffic periods ever seen. The campaign will be leveraged across our digital and print channels, as well as investing paid support on social to speak to our Guardian audience and potential job seekers.
Director of sales and marketing, Guardian Jobs, Gemma Hennen said:
"We're proud to be supporting the NHS with free job listings during this critical time. As millions from across the country and around the world come to the Guardian for trusted, independent reporting, we will drive awareness on and off our own platforms to help fill these urgent vacancies."
In recognition of the challenging times all organisations face, Guardian Jobs is also extending its maximum length of job adverts from four to six weeks, to ensure more potential candidates see all job listings. This change has been applied to current adverts and will be automatically added to any advert booked with Guardian Jobs before 30th April.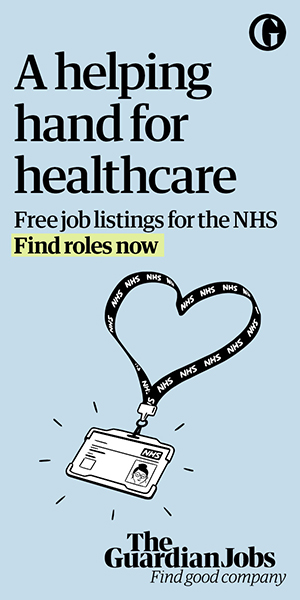 Recruiters for NHS roles can contact recruiter.advertising@theguardian.com for more information
Source: The Guardian