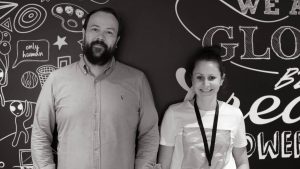 gyro, the world's first full-service, global creative B2B powerhouse and part of Dentsu Aegis Network, has promoted two leaders to important new roles: Paul Hutt is now Chief Growth Officer, gyro APAC and Laura Bell is Client Services Director, gyro APAC.
As Dentsu Aegis Network continues to invest in the growth of its brands with a focus on talent evolvement, gyro APAC expands in the B2B space across APAC. In his new remit, Hutt will focus his efforts on growing the business by pushing gyro's unique proposition. Most recently, he worked as Head of Media & Client Services for gyro APAC during the past two years.
Prior to that, he was Client Services Director at Carat Enterprise APAC, which merged with Band and gyro Singapore to create gyro:APAC. Throughout the course of his successful career, Hutt has worked across the full spectrum of services – media, channel, creative and digital capabilities – for clients including Microsoft, Intel, and Standard Chartered.
Bell has proven herself to be an accomplished account leader on all fronts. She has excelled working with top global clients including Intel and Mastercard. Laura quickly demonstrated her strategic capabilities in delivering client campaigns across the marketing funnel across APAC – especially in the digital marketing space, when she moved to Singapore from London five years ago to join Band, prior to the rebrand to gyro.
Kieran Vye, Managing Director of gyro APAC said of Hutt: "Paul proved during his time as Client Service Director that he can work across the full scope of services that we, as a fully integrated B2B business, provide for our clients – working with media, channel, creative and digital capabilities across the region. He is ready to succeed at a much higher level."
Vye said: "Laura has proven that she has powerful ability to team with clients to help them reach all of their goals while at the same time strengthening the relationship. Her positive attitude in the face of challenges is a valuable asset to have in the team as she continues to find emotionally relevant solutions for our clients."
Source: gyro