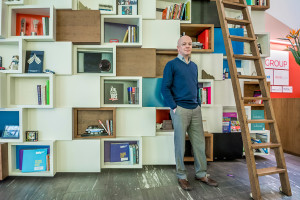 Havas Media Group has announced the appointment of Darren Minshall as its new Chief Talent Officer. A leading expert in employee engagement and talent management, Minshall joins the agency from Saatchi and Saatchi.
Working in partnership with Paul Frampton – the Group's CEO – as well as its leadership team – Minshall will be responsible for nurturing and further developing Havas Media Group's talent strategy. As the Group continues to grow, and in preparation for the London launch of the Havas Village in 2017, he will be responsible for attracting, developing and retaining the very best talent in the industry across all departments in the Havas Media Group.
Minshall will also be tasked with building upon and developing Havas' new initiative, Havas Fusion. This programme is designed to look at equality, opportunity and accessibility to make sure that the Group is an inclusive, diverse and supportive place to work.
Operating at an executive level in HR and Talent Management across digital, advertising, marketing and communications, Minshall boasts a wealth of international experience spanning over two decades. With strong agency experience, he has delivered award-winning talent and development programmes for big agencies including Saatchi and Saatchi, Lime Pictures and McCann Manchester. Notably, during his time at McCann, Minshall developed and implemented one of the UK's first fully integrated marketing communications apprenticeship programme.
Frampton, added: ''Darren is a true specialist in his field and we're delighted to have attracted someone of his calibre. His appointment reflects our continued investment in our people who are our number one priority. The aim is to further champion our #havastogether and Havas Fusion – Diversity and Inclusion – programme and to strengthen our approaches to employee engagement and retention."
Darren Minshall, said: "With the launch of Havas Village London in the near future, I couldn't be more excited to start at a time of such transformation for the Group. It has a clear belief on attracting, retaining and developing the best possible talent and I am glad to be joining the team to put that into action."
Minshall has been set a firm brief to lead a transformational employment engagement strategy that reflects Havas Media Group's core values; a culture of commitment, collaboration, innovation, entrepreneurship and accountability.