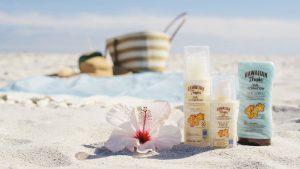 Hawaiian Tropic, the Edgewell Personal Care sun care range, is extending into the beauty market with a campaign created by WM Content, the strategic content consultancy that creates and orchestrates content marketing programs, specifically built to accelerate the purchase journey.
Launching a newly developed creative and media strategy, the campaign which goes live over the forthcoming Bank Holiday weekend, seeks to drive excitement about the summer ahead, encouraging women to live their most feel-good summer yet with an integrated social, influencer and activation push, rather than traditional media.
Wavemaker recently won the creative business following a competitive pitch, already having responsibility for the media strategy, planning and buying business.
Using inspiring micro-influencers and Instagram, consumers are encouraged to share their own summer moments while Hawaiian Tropic will communicate its sensorial, skin loving range of products with dynamic creative, targeting the right product to the right consumer.
Hawaiian Tropic will also attend key festivals to engage with consumers and offer sampling for consumers to share with their peers on social. Partnering with multiple brands, WM Content has also created the 'Aloha Hour' – a time every day over a month where Hawaiian Tropic can improve people's days by giving away products or discount vouchers from consumers' favourite beauty brands.
Sarah Wood Marketing Director at Edgewood Personal Care said, "The team and I are delighted to be working with WM Content on the launch of 'Aloha Therapy'. We know that women don't always wear sun cream as often as they should and our social first campaign will showcase how they can bring the experience of Hawaii via Aloha Therapy into their daily lives. We are excited to see the results!"
Louise Temperley Head of WM Select, Wavemaker added, "We are hugely excited for the launch of Hawaiian Tropic 'Aloha Therapy' – a fully integrated campaign.  Hawaiian Tropic has a unique positioning in the crowded suncare market which will come alive in the look and feel of the creative work alongside the media activation. This is a social first campaign targeted towards a female younger audience segment but will also be amplified with VOD, partnerships and experiential activity throughout the summer months. It's been a true collaboration between Edgewell, WM Select and WM Content and we look forward to seeing the results."
Source: Wavemaker