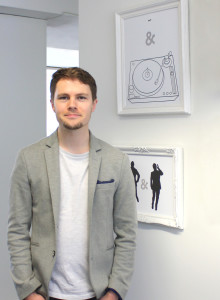 Leading brand design consultancy Holmes & Marchant is proud to announce it has hired Harry Cox as senior designer to work across its client portfolio.
Reporting to Jeremy Shaw, Holmes & Marchant Creative Director Europe, Harry will be working across the agency's diverse range of clients, from Unilever to Informa.
Harry joins from his position of designer at branding agency BrandOpus, where he worked on high-profile accounts such as McCain, Badger Ales, Twinings, Belvedere, Harvey Nichols, and Raffles Hotels & Resorts.
Prior to this Harry was a designer at Four IV, and in 2010 won a D&AD New Blood Yellow Pencil.
Jeremy Shaw, Creative Director Europe, Holmes & Marchant, said: "It's a pleasure to welcome Harry to the team, having that rare mix of corporate and consumer expertise is the perfect fit."
Harry Cox said of his new role: "I am honoured to be joining a design team that has such a reputation across both print and packaging platforms."