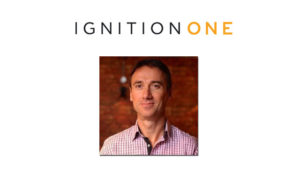 Following a strong period of growth across the UK and European market, global digital marketing technology and services leader, IgnitionOne, has appointed Seamus Whittingham as new Senior Vice President and Managing Director of European Sales.
In this new role, Whittingham will be responsible for the development and execution of IgnitionOne's European growth plan. He will also manage commercial and structural growth across IgnitionOne's key regions including UK, France, DACH, Benelux and Eastern Europe.
Based in the IgnitionOne London office, Seamus will report directly into CEO, Will Margiloff, as part of the Senior Management Team.
This appointment follows Whittingham's phenomenal success both commercially and in delivering regional expansion across the ecommerce technology space. Over the past 16 years he has led sales teams for organisations including Oracle, and GSI Commerce.
Most recently he has held senior positions at pre-IPO marketing technology companies, including Managing Director at Qubit, where he was responsible for European growth strategy.
Will Margiloff, CEO of IgnitionOne comments: "Our business continues to grow in London and across the European markets. Seamus' impressive experience in delivering regional growth plans and leading and developing sales teams, particularly in Retail – one of our key areas – made him the perfect choice for the role. He is going to be a fantastic asset to the leadership of the European and UK teams."
Seamus Whittingham, Senior Vice President and Managing Director of European Sales at IgnitionOne added: "IgnitionOne's unique scoring capabilities that deliver individual-level predictive intelligence in real-time, are truly impressive. The ability to identify high-value audiences and deliver a personalised experience across channels and devices is incredibly relevant to today's online marketer in terms of driving marketing efficiency and top line growth. I am delighted to join a great team at IgnitionOne and develop our European growth strategy in the coming months."
Source: IgnitionOne