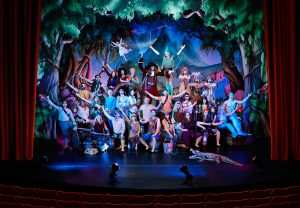 Creative transformation agency isobel's latest Christmas card is out – this time re-creating a scene from Peter Pan for the West End stage.
It's tradition that every year the team at isobel raids someone's costume department, endures up to four hours of make-up and takes a day to shoot a tableaux scene for its Christmas card. We've seen everything from monks and chavs, to ballet, Glee, and the Christmas nursing home.
2017's is a theatrical display of pirates and lost boys, with the Partners picking up the key roles of Captain Hook (Rob Fletcher, Creative Partner), Peter Pan (Paul Houlding, Managing Partner) and a very convincing Tinkerbell (Steve Hastings, Planning Partner).
In the true spirit of theatre, Paul Houlding got a bit carried away as the boy who could fly during the 'creation' and took a fall from six feet up. He survived unscathed, bar a few bruises, and got straight back to it, declaring, "The show must go on!"
Rob Fletcher, Creative Partner at isobel, comments: "isobel's annual Christmas card is more than just a tradition for us. It's a chance to go bigger and better than we ever have; a chance to challenge ourselves to be more creative. We approach every card the way we approach any client project – with creativity, curiosity and ambition. As a result, each year the card becomes more unorthodox and harder to pull off."
The agency has been sending out such Christmas card for 12-years now. The latest one was shot by Paul Thompson on stage at The Leatherhead Theatre. The National Theatre's Costume and Props Hire department provided isobel with their costumes.
Source: isobel