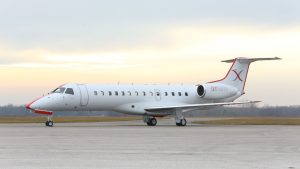 On June 13, acclaimed air carrier JetSuiteX announced that it has retained San Francisco based, award-winning agency, Eleven, as a marketing and branding partner.
Eleven will be responsible for every facet of the marketing process for JetSuiteX, including concepting, production, media planning/buying and brand communications strategy. Eleven will also execute a fully integrated campaign that will launch this summer.
Started in 2016 by JetBlue Airways founding executive Alex Wilcox, JetSuiteX enables customers to arrive just 20 minutes prior to departure, fly on 30-seat jets and utilize private terminals near major city centers, foregoing all of the hassles associated with crowded airports.
The flight operator currently flies 330 weekly scheduled flights and serves seven short distance destinations daily from Burbank, Orange County, Oakland, Concord, Las Vegas, Seattle and Phoenix, with seasonal service to Mammoth and Coachella Valley.
"By merging the efficiencies of commercial airlines with the seamlessness of private aviation, JetSuiteX is  redefining the consumers' expectation of air travel, " said Michele Sileo, Managing Director at Eleven. "We're thrilled to partner with JetSuiteX to elevate this amazing brand. They were immediately inspiring to us not only for the category defining product they were bringing to market, but their desire for innovative and break though creative work."
"As we continue to grow as a brand, we are thrilled to welcome Eleven to our team as our marketing agency and brand stewards," said Angela Vargo, Vice President of Marketing at JetSuiteX. "Eleven's outstanding creativity and strategic genius, paired with their progressive agency culture, will propel our brand to new heights."
Source: Eleven