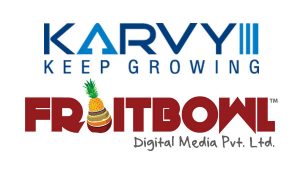 The renowned financial service provider from Hyderabad, Karvy Group, has awarded Fruitbowl Digital with their digital mandate. The interactive media agency will be responsible for managing the digital duties of 5 businesses present under the Karvy Group umbrella namely, Karvy Growth Hub, Karvy Stock Community, Karvy Investment, Karvy's Wealth League and The Finapolis.
Fruitbowl Digital has been entrusted with multiple tasks of media planning and buying, social media marketing and influencer marketing; thereby helping the brand attain extensive exposure across the digital space and create a mark of their own, in the Industry.
While commenting on their newly established association with Karvy Group, the Co-Founder of Fruitbowl Digital, Faisal Amin said, "Gaining the trust of the consumer is one of the most crucial parts of any business. And it becomes all the more relevant when it comes to finance because we take responsibility of the clients' money. The challenge now is to engage with consumers through digital media on topics that are often perceived as boring. In order to get the users hooked on to the content, we plan to create conversations and build relationships, ultimately gaining that much needed trust and developing an environment where the consumer is aware as well as interested."
Fruitbowl Digital is one of the leading digital agencies in India and has many innovative campaigns under its belt, that created a significant impact on digital platforms. Based out of Mumbai, this social shark seems committed and focused towards making Karvy Group a digitally active name, through their social media campaigns, digital innovations and consumer-driven interactive strategy.
While commenting on Karvy Group's association with Fruitbowl Digital, Karvy's Head of Corporate Communications, Mubaashir Ansari says, "We, at Karvy, are constantly on the lookout for new trends in social media engagement and to reach our customers in the most creative and innovative manner. We want to develop strong social media footprints through highly creative work and aim to partner with an agency that shares a similar vision. We were impressed with Fruitbowl Digital's creative approach and insights into the digital possibilities for a brand like ours and look forward to our association with them."
Source: Fruitbowl Digital