In recent years Kia has taken major steps forward when it comes to the quality and design of their cars. Winning various reliability tests and design prizes worldwide. But, research showed the consumer could not really tell what Kia stood for as a brand. 
The ambition of the Kia is limitless and the power of innovation tremendous, but it was important to build a new strategy on existing associations. Enter XXS Amsterdam.
XXS looked for a logic, relevant and distinctive domain, true to ambitions and believable to the consumer: Kia goes for more. Therefore, the agency decided to focus on amplifying Kia's 7 Years Guarantee to underline the cars' durability and impeccable design. Kia's high-quality has been proven through rigorous testing, so the creative agency wanted to visualise what seven years of wear and tear does to a Kia: not much. 
The video shows 7 years in 7 seconds. Because a lot can happen in seven years; from romantic getaways by car, to baby seats and muddy Saturday morning football practices. Seven years can mean countless trips to school and back, the supermarket, the seaside, collecting a trunk full of memories on the way.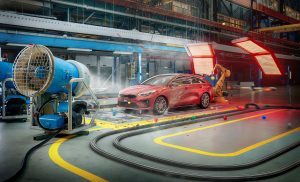 Maaike Aarts, Manager Communications & PR Kia Motors Netherlands, said about the development of the campaign: "Over the past few years, we have taken enormous steps in the field of quality and design of our cars at Kia. We are winning reliability tests and design awards worldwide. Our models are also appreciated for their specific driving characteristics, which is in no way inferior to the well-known brands. Nevertheless, the consumer does not know what Kia stands for. That's why we've started a process with XXS Amsterdam to identify the brand and give it direction."
Joram Helmer, Head of Strategy at XXS Amsterdam added: "Kia's ambition is limitless, its innovative power gigantic – but we have to build on existing associations of the brand. We have found a logical, relevant and distinctive brand domain, where both Kia's ambition has a place and what is credible. Kia goes for more."
John de Vries, Creative Director at XXS Amsterdam said: "We wanted to create an impactful, distinctive campaign about quality. The idea is 7 years in 7 seconds. In this campaign, we show that Kia offers more quality and really takes everything into account. A car you can rely on every day for at minimum 7 years. With more fun."
Source: XXS Amsterdam