What if travellers waiting to board a plane could exchange tips face-to-face with others who are heading in the opposite direction? KLM Royal Dutch Airlines has worked with creative agency DDB Unlimited to build a bar where travellers can meet to exchange local tips at airports in the Netherlands, Norway and Brazil. This new travel experience is called 'Take-off Tips' and is driven by 3-D facial scanning and hologram technology.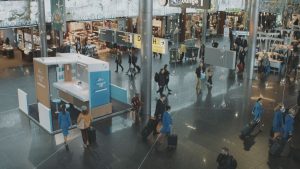 Rather than passively waiting for a flight, KLM has created an innovative way to share the kind of priceless local tips and cultural insights that their customers can't get by reading a guidebook. Using a live connection, travellers can chat with a hologram of their counterparts, looking each other straight in the eye.
Allowing travellers separated by thousands of miles to sit face to face – just as in real life. With KLM's Take-off Tips bar, customers are able to talk to each other at airports in Amsterdam, Oslo, and Rio de Janeiro – strangers who would otherwise never have met.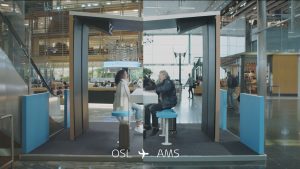 Ed van Bennekom, Creative Director, DDB Unlimited, said: "Many travellers get bored at the airport as they wait for their flight. With 'Take-off Tips', we want to give them a more useful and memorable way to pass the time. This new KLM initiative is a good example of how we combine strong insights with innovation to show that KLM is number one in customer service."
The installation connects people in real time and projects them onto a transparent hologram fabric. The technology took almost three months to develop, test and perfect. It uses 3-D facial scanning to detect and track the participants' faces on both sides – and then the mechanism projects this data back in both directions. The movements determine the hologram's projected angle, creating a three-dimensional feel.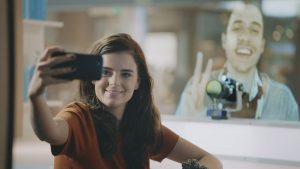 Esther te Pas, Managing Director, DDB Unlimited, added: "Our longstanding client KLM is in the business of bringing people together, and is constantly pushing boundaries to find new ways to improve on the experience of travel. Our role is to bring a creative and innovative take on this mission."
Natascha van Roode, Head of KLM Marketing Communication, commented: "In our industry it is such a joy to be able to bring people together time and time again, we rejoice this in our latest campaign themes and 'Take-off Tips' is no exception. We continuously strive to find means to enable contact between customers including new technologies to create memorable experiences."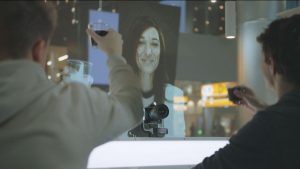 KLM's agency DDB Unlimited conceived of the idea and built the hologram bar together with their production partner Circus Family. To share this experience with a wider audience, the agency filmed the conversations of real travellers heading in opposite directions and created a short film of the warmest moments for KLM's social channels.
Source: DDB Unlimited