The many lives of a family sofa – from toddler playground to home office to dog bed – feature in a new ad campaign from sofa and furniture expert DFS, promoting its new durable fabric called Resilience. The campaign was created by independent agency krow London.
A 20-second television ad shows kids, pets and a canoodling couple each using a DFS Resilience sofa in their own particular ways, highlighting the fact that it is 'Oops resilient', 'snore resilient' and finally 'life resilient'. It ends with the strapline 'Designed for comfort. Made to last'.
The ad breaks on television this week, backed by digital and social activity running through until 2 November. Media planning and buying is by Mediacom.
Nick Ashworth, Marketing Director at DFS, said: "All our sofas have a 15 year structural guarantee but we're really excited to be launching an exclusive range with life-resilient fabric, which has been tested by the Good Housekeeping Institute. We wanted to find a way of really bringing the benefit to life for our customers and we think krow's campaign does a great job of this."
John Quarrey, Group CEO at krow, said: "DFS is one of the most famous retail brands in the UK, which reflects how much the team we work with there believes in advertising. When we found out how tough Resilience fabric is, we really wanted to do justice to it by showing just how well it can put up with what everyday life throws at it and look great in the process."
'Resilience' is the latest work from krow London created to highlight DFS's credentials as the first choice for quality, stylish, handmade seating. It is the only sofa company to have been awarded a British Standard Kitemark™.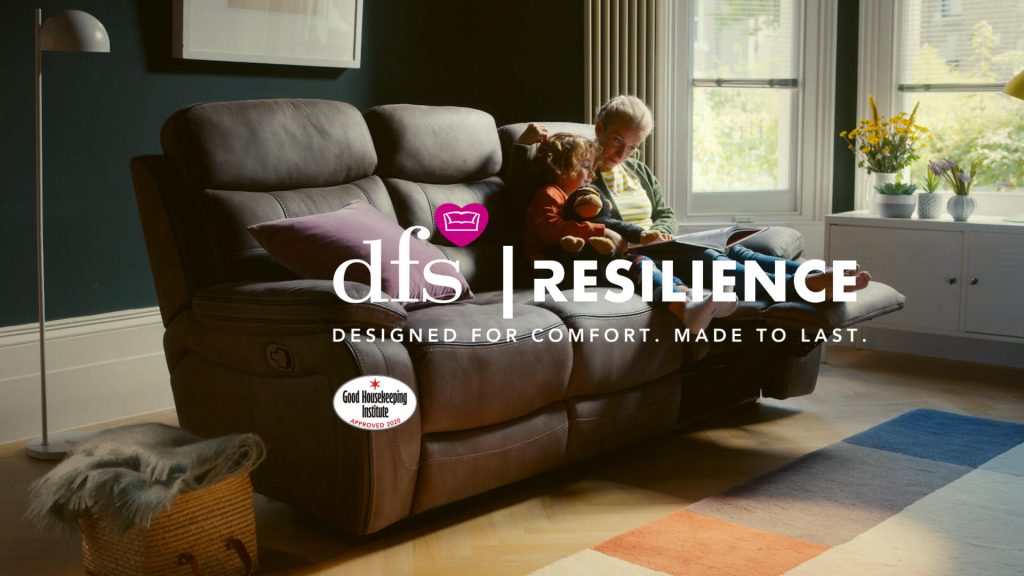 PRODUCTION CREDITS
Creative Director Darryl George & Jon Mitchell
Art Director Jon Mitchell
Copywriter Darryl George
Planning Director Aileen Ross
Senior Account Director Felicity Pelly
Agency Producer Kate Bailey
Director Pedro Romhanyi
Production company Outsider
Producer Gareth Francis
Editor Dan Good c/o Kworks
Post Production                      The Mill
Source: krow London