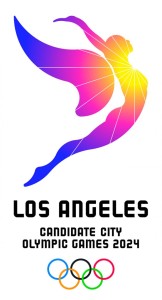 Over the years, Olympic Games logos have ranged from interesting to downright bizarre (and the mascots are an entirely different conversation altogether). In launching what is certainly a fitting logo and slogan for the L.A. 2024 Olympic Games bid, Los Angeles mayor Eric Garcetti was backed by more than 100 Olympians and Paralympians, celebrating the spirit of the city.
Los Angeles-based, MDC Partners shop 72andSunny designed the logo — a soaring figure that takes ample cues from the sun, a clear nod to what defines the area. Bruce Mau Design worked on other parts of the brand design.
"The figure is illuminated, lifted and empowered by the rays of the sun, which emanate from a sparkling point of light at the figure's heart – a palette of colours often seen in the city sky both at dawn and sunset," said L.A. 2024 in a statement.
The slogan, "Follow the Sun" is part of the campaign as well.
Officials say bringing the Olympic games to Los Angeles would be of great benefit despite the estimated cost to the city of $5.5bn and concerns about transportation and traffic. Los Angeles is competing with Paris, Rome and Budapest to host the 2024 games.