VERJ, LAB Group's behavioural science specialist agency, has appointed Sabrina Duda to the newly created role of Head of User Experience following its launch last month.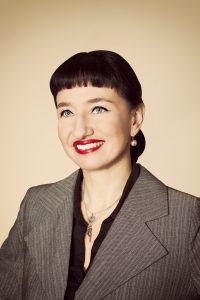 Duda joins from global digital agency Valtech, where she was Senior User Experience Consultant working on client's projects including the NHS.
In her new role at VERJ, Duda will lead the agency's user experience offering, overseeing design, delivery and innovation and creating a bridge between research and creative implementation of insights. She will also facilitate knowledge sharing throughout LAB Group, delivering behavioural research findings to its creatives and content creators.
Duda has more than 20 years' experience in UX roles, with particular expertise in user-centred product development and user research. She has previously held positions at the Very Group, the UK Ministry of Justice and Experian. She is also a qualified psychologist, specialising in engineering psychology and cognitive ergonomics, and a regular speaker at industry events including the World Usability Congress, HCI International and UX Crunch.
In her new position, Duda will report to Jonny Tooze, CEO, LAB Group.
LAB Group announced the launch of two specialist agency brands, Riverr and VERJ, in September of this year. The move saw it elevate its existing LAB agency brand to group-level in order to offer a single point of entry for clients.
Jonny Tooze, CEO, LAB Group, said: "LAB Group walked a narrow path six years ago by focusing our agency on joining the dots between the world of behavioural sciences and digital. We did this to unlock bigger opportunities for our clients and answer the tough questions that traditional approaches struggled with. It was a decision that paid off, and now many agencies and organisations are following this path. 
"Sabrina's hire signals the next stage of evolution for LAB Group, and we're very excited about her joining the team at VERJ. Sabrina has incredible credentials and expertise, which will lead the next generation of digital experiences, underpinned by her brilliant background in psychology, digital, and user experience."
Sabrina Duda, Head of User Experience, LAB Group, added: "I am very excited to be joining VERJ and LAB Group. The group's unique human approach and its combination of creativity, behavioural science and technology make this role the perfect match for me and my background.
"As a psychologist with over 20 years of experience in UX, I bring the user perspective to everything I do. Uncovering users' hidden psychological motives, and observing and analysing their behaviour and pain points, creates successful products that fulfil users' needs. When user needs drive product development, you can achieve the best possible outcome for customers and businesses alike."
Source: LAB