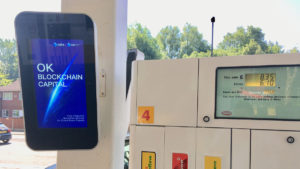 Bidooh (the "Group"), a real-time, real-audience, digital billboard advertising platform, announced that one of the world's largest digital asset exchanges OKEx has participated in its Initial Coin Offering ("ICO"). Bidooh launched an ICO pre-sale of its cryptocurrency, DOOH Token, on 1 October 2018.
OKEx uses blockchain technology to optimise the provision of financial services to global traders. It regularly features in the top three digital asset exchanges by daily trading volume, serving millions of users in over 100 countries. In addition to its participation in the ICO, OKEx has agreed to use its global reach to promote Bidooh to prospective token purchasers and has endorsed the platform by displaying its own adverts on Bidooh's network of digital screens.
In a further endorsement for the Group, Bidooh is pleased to report that within days of its project applying for Huobi's HADAX exchange, its application was fast-tracked through to the listing process, reaching number two on the exchange's popular projects page with over 150 pro votes. Huobi is a global financial hub of digital assets which has turned over an accumulated total in excess of $1 trillion since it was established in 2013. The decision to fast-track the DOOH Token application followed overwhelming positive market support for the ICO and Bidooh has now been invited to present to three of Huobi's institutional investors.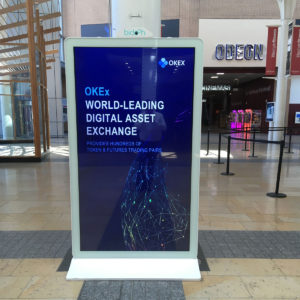 Abdul Alim, co-founder and CEO, commented: "We are delighted to have received this level of institutional support from OKEx, one of the largest digital asset exchanges in the blockchain world. It is very rare for exchanges to engage directly in token sales, so to receive this endorsement is extremely encouraging. We believe this demonstrates just how receptive our Bidooh Platform is to blockchain technology. By providing independent verification of advertising spend and outcomes, our blockchain-based platform will bring a new level of transparency to the industry."
Estrella Du, Investment Manager at OKEx's investment arm, OK Blockchain Capital, added: "We believe Bidooh's platform is well positioned to disrupt the rapidly growing digital advertising market. We are excited to see a real-world example of a traditional business moving to the blockchain for the benefit of both the advertising industry and consumers."
Bidooh is the world's first facial analysis, digital billboard software platform on the blockchain, promising to revolutionise the $34.8bn Out-of-Home advertising industry through democratisation, engagement and transparency. The Group provides a complete turnkey platform which allows businesses to create an advert on the Bidooh app or website and book space in real-time.
Within 60 seconds, this is displayed on a selected screen around the globe and data analytics is made immediately available for advertisers to measure the performance of their campaign. The Group has an MVP in place and screens live in multiple locations, along with an ever-growing number of global partners.
Source: Bidooh