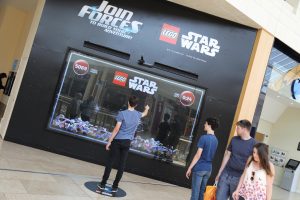 LEGO launches a digital OOH campaign which invites shoppers to "Master the Force" to build the galaxy using on-screen LEGO bricks. The experiential campaign follows on from the debut of Solo: A Star Wars Story on the 25th May and promotes the latest characters and brick sets tied to the Star Wars anthology.
The interactive campaign is powered by gesture sensor technology enabling passers-by to simply and quickly engage with the LEGO sets on-screen. The user is prompted to choose a side and start building the spaceships of the new galaxy.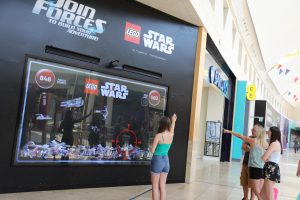 The faster they build, the higher the score on the force meter as they strive to win the ultimate accolade of becoming a true Jedi Master. Participants are rewarded with the opportunity to 'take a photo with the crew', further amplifying the activity online through social sharing.
The campaign was collaborative effort, conceived by Initiative, with production, animation and interactive build by Grand Visual. Media planning and buying was by Initiative and Rapport.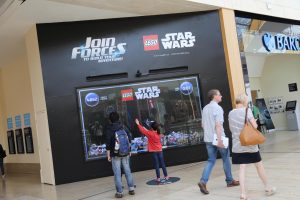 The week-long Application runs at busy UK shopping centres Bluewater and Newcastle Metro Centre, on large-format digital screens supplied by shopping centre media specialists, Limited Space.
Al Galletly, Brand Manager, LEGO, "We want to inspire kids to play with LEGO Star Wars through amazing experiences and creative play, and this awesome attraction allows kids to interact with LEGO Sar Wars in a unique way."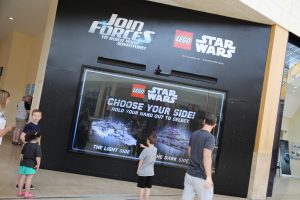 Ric Albert, Creative Director, Grand Visual, said: "This immersive experience brings LEGO sets to life through strategic use of creative technology, allowing customers to get hands on and explore the latest products in a fun and memorable way. At the end of gameplay, the photo opportunity extends the life of the campaign to digital audiences by encouraging participants to share their picture with family and friends online."
Source: Grand Visual