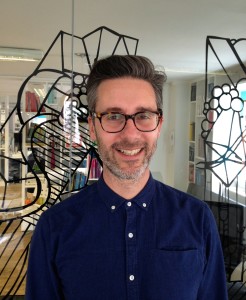 Live & Breathe has promoted James Hoxley to the role of executive creative director following a restructure of the top tier creative team across its London and Leeds offices. The move forms part of the agency's ongoing strategy to provide a more integrated offering and deliver best-in-class creative solutions for its clients.
The move follows the promotion of Gary Jacobs to the role of creative director last year, which saw him take on more responsibility of the day-to-day running of the London office's creative department.
Hoxley's promotion, which is effective immediately, sees him take on responsibility for the overall creative strategy and direction for all agency accounts across, including overseeing creative work at the most senior level.  A key part of his remit will include developing the agency's creative teams and investing more time in new business pitching.
He joined Live & Breathe in 2013 as creative director, returning to the agency from the Marketing Store, where he spent four years as creative director retail with responsibility for the Vodafone retail account. Before that he had been at Live & Breathe for a decade, lastly as head of creative.
Hoxley, who will continue to report into MD Nick Gray, will work alongside recently-appointed executive planning director Jamie King on the agency's biggest creative projects as well as focusing on developing increased business with its existing client list.
Nick Gray said: "James' promotion is well-earned and it was only a matter of time before he took on the ECD mantle. During the last couple of years he has helped to build a strong creative team of varied and hugely talented individuals in the London office.
"We have a real power team in James and Jamie. James' creative and commercially minded approach, combined with Jamie's searing intelligence and strategic background, personify the agency's considered maverick proposition."
James Hoxley added: "The team at Live & Breathe has truly transformed in the past year. We're extending ourselves creatively to ensure we are delivering outstanding work for all of our clients.
"Jamie is a fantastic hire. His strategic leadership, combined with the continued growth of the creative department, points to a very exciting future for the agency."