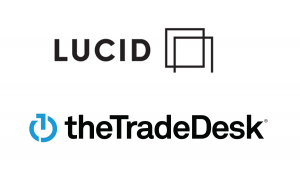 Lucid, the leading programmatic research technology company, today announces its partnership with independent demand side platform The Trade Desk to introduce the availability of Brand Lift. The new offering helps current and future clients of The Trade Desk in the U.S., U.K., Canada, and Australia to measure the impact of digital campaigns on key brand metrics using brand lift studies.
Brand Lift is powered by Lucid's publicly available Impact Measurement APIs. It enables The Trade Desk clients to set up surveys and view in-flight brand lift reporting for the brand metrics that matter most to them, directly in The Trade Desk platform.
With Brand Lift, brand marketers and advertisers can ask core branding questions to measure awareness, ad recall, consideration, purchase intent, recommendations, and favorability for their cross-channel campaigns. Lucid then leverages its marketplace to gather survey responses from test and control groups. Brand marketers and advertisers can typically start to see results within The Trade Desk platform one week after a survey launches, with granular insights updated daily thereafter to show lift by age, gender, and frequency, and reporting at the campaign, ad group, and creative level.
Daily data updates give advertisers the ability to understand performance in real-time, and optimise their campaigns mid-flight. Lucid facilitates one-third of all U.S.-generated surveys and has a marketplace of 350 suppliers, made up of diverse panels, online communities, and more, with two million daily respondents in over 100 countries to provide scale to deliver statistically significant results across all channels, including Connected TV.
"When consumer behaviours and external factors are changing at warp-speed, every day matters," said Patrick Comer, founder and CEO at Lucid. "Brand marketers need to have access to actionable insights at a moment's notice so they can be more flexible and agile in their strategies, and able to make adjustments on the fly. Brand Lift affords marketers just that. We are thrilled to partner with The Trade Desk and leverage our Impact Measurement solution to help pioneer the next wave of smart brand measurement."
With an API-first development approach, Lucid's Impact Measurement solution uses a proprietary survey-based methodology to get responses from real people. The always-on dashboard displays daily survey results and Lucid-generated brand lift metrics across a range of KPIs – delivering reporting cut by site, tactic, placement, and creative.
"We are excited about this partnership with The Trade Desk, as it is another innovative application of ResTech that supports UK marketers. We are continually seeing more interest from today's marketeers in assessing consumer behaviours and opinions to better inform their campaign strategies. In this case, the API integration helps The Trade Desk's UK client base to track brand lift and relevant metrics directly within the platform." –Ben Hogg, MD EMEA and APAC 
"Today's brand marketers and advertisers need to measure the impact of their digital campaigns," said Brenda Tuohig, VP of Data Partnerships at The Trade Desk. "We are constantly looking to expand our products and service offerings to give marketers access to smart measurement solutions and real-time insights, especially as interest in CTV continues to rise as our fastest growing channel. Our partnership with Lucid demonstrates our commitment to helping advertisers around the globe look beyond scale and frequency to measure the true impact of their upper funnel campaigns and drive real business results."
Source: Lucid & Lovely Mobile News