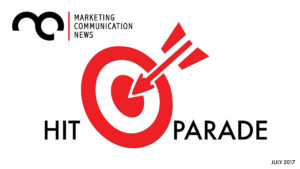 MarComm News' Hit Parade brings you our selection of the "hit" projects of the month. The highlights for July 2017 include technology, design, advertising and viral projects:
1) "The Homo-schlepiens" by SodaStream
Although it has not been the most viral ad of July, SodaStream's "The Homo-schlepiens" didn't fair too shabbily, racking up over five million views at the time of writing this.
The video was sure to get some eyeballs as it starred The Big Bang Theory's Mayim Bialik and Game of Thrones' Kristian Nairn. However, unlike some of the other, more watched projects, this one has a good message attached to it and that is what won it, its spot on this list.
"This campaign has a powerful message and one that needed to be told before I went on vocal rest," said Mayim Bialik. "More than one billion plastic beverage bottles are used each day around the world, the majority of which end up in our landfills, parks and oceans devastating the environment and killing marine animals. Who will speak for them and say enough is enough? I may have lost my voice but I won't be silenced about this important message, the world needs to find their voice and say 'no' to polluting plastic bottles."
2) "Equal Love" by Absolut Vodka and BBH London
'Equal Love' by Absolut Vodka and BBH London, has delivered a very powerful message for acceptance and love without discrimination using a never-ending, diverse kiss. This kiss pays no attention to sexual preference, gender, colour or profession and instead become a testament to equal love.
The brand has always had a longstanding relationship with the LGBTQ community and chose to celebrate equality alongside pride season kicking off in July. Right time to share the brand's beliefs!
3) "Viupax" by Andreas Kioroglou
Revolutionary Shoe Packaging says yes to sustainability. Andreas Kioroglou, founder of Matador Design has rethought the traditional shoe box to make footwear brands more sustainable and more cost efficient. Viupax uses 20-50% less paper, makes products stand out, occupies 20-57% less volume, and has an easy model, size and colour identification of its content.
The design, can be converted into a carrier bag or a shoulder bag, improving the user experience. It can also be used as a display stand as well as been transformed into a toy, without any specific tools.
In addition, the revolutionary shoe box is customised with printed electronics, including LED lighting, wireless lighting and Arduino.
4) "Project XY" by Studio Sparr
This distinctive design by Studio Sparr does not have two equal tags for XY Wines because of its Digital label printing. The multi-colour UK label printers and design agency wanted to highlight the benefits of digital print technology.
The creative idea was to show how many possibilities can be obtained out of the same print run, which created 1000 unique abstract images. To design the images, traditional printing inks were used, however for the production, digital technology was used to obtain 1000 different images.
The bottle labels came together with a bespoke brochure and die-cut sleeve cover. These, were sent directly to customers, with each individuals name printed on the labels, attracting their attention to the project.
5) "Care Tag" by KLM
KLM Royal Dutch Airlines has gone the extra mile by providing value to its passengers even after landing, offering passengers who visit Amsterdam a handy gadget: the KLM Care Tag.
This smart audio luggage tag automatically provides visitors with location based verbal tips on how to move around the city. The designed location-aware audio luggage tag consists of an offline GPS module and a speaker. While passengers are walking or cycling through the city, it offers the right tip at the right location and the right time, including tips such as where to lock your bike or the average taxi cost to the airport.
Article by Elena Munoz de Leon, MarComm News