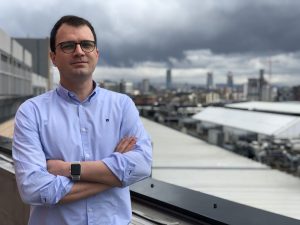 Ricardo Seixas, an international digital specialist and ex-Google lead, has been appointed by Media Agency Group (MAG) to run its newly revamped digital division ClickTap Media – offering its global client base the greatest expertise in online paid media with 'through the line' strategies.
Ricardo, who is renowned for delivering award-winning digital campaigns to top tier brands across the world (inc. Brazil and USA) – has brought his former Google team with him to capitalise on their strong UK & Ireland market knowledge and to rival that of its competitors.
As an early digital native, Ricardo acquired vast experience working internationally in the digital space with consumer brands, start-ups, tech companies and digital agencies and at Google he led PPC experts and Google AdWords Campaign Specialists, supporting thousands of brands across the entire UKI market.
John Kehoe, MAG said: "The lines between traditional and digital media have never been so blurred and ClickTap Media was organically born through a growing digital need by our clients.
Ricardo is one of the leading players in the digital world and he and his former Google team are a phenomenal asset to our business. We have an amazing array of clients working with us and since Ricardo's arrival we have already been winning work from national rivals and clients including The Crystal Maze Experience, Herbalife and CuraPROX".
Ricardo's brand and agency clients include, L'Oreal, Telefonica, GlaxoSmithKline, Sanofi, Ambev, Municipal Chamber of Rio de Janeiro, Havas, Saatchi & Saatchi and more.
Talking about his new role, Ricardo said: "Media Agency Group is one of the UK's leading integrated agencies and I am thrilled to head up ClickTap Media. The growing team is formidable with best in class expertise in all online paid channels and some excellent clients, and I look forward to work collaboratively with brands to help them grow and compete where it matters the most: online."
Source: Media Agency Group