A new campaign from Microsoft and creative agency Blk-Ops depicts the many ways the Microsoft Surface Laptop Go is being used to power our ability to work, learn, create and connect from home. The spot debuts this week online and on Thursday Night Football, part of Microsoft's continuing partnership with the NFL. 

The spots features real families in quarantine situations who have cleverly turned closets into classrooms, dining rooms into study halls and garages into fashion studios and documents their reactions as they unbox and experience the powerful and portable Surface Laptop Go for the first time. Each scene offers an up-close look at a favorite feature: the touchscreen and fingerprint reader, the colors, the premium design and the lightness of the device, which all come at an accessible price.

To bring this campaign to life, Blk-Ops partnered with Kristelle 'Kelsey' Laroche, an award-winning director who specializes in documentary filmmaking and whose films have been screened at Tribeca, Palm Springs International Shorts and SXSW Film Festivals. Kelsey's experience and style were essential for this type of storytelling, which aimed to capture special moments of connection, love and inspiration between family members.

Kathleen Hall, Chief Brand Officer, Microsoft
"Many of us, and our customers, are adjusting to the new normal: sharing space, sharing bandwidth and often sharing devices. With the launch of the new and affordable Surface Laptop Go, we can't get them more square footage, but perhaps now they can stop sharing devices and have one of their own. Our new spot features real people, living the new reality—working from laundry rooms, closets and garages to get some personal space—who experience the Laptop Go for the first time. They share their reactions and joy at getting amazing premium features at an affordable price in a beautiful, sleek, lightweight design—empowering them to do more."   

Andrew Panay, Founder and CEO, Blk-Ops
"This campaign brings the audience into a familiar scene, a home that has become more flexible and adaptable as our world has changed so much more over the past few months. Whether we're inside a laundry room that's become a library, a garage that's become a studio, or a living room that's become a study hall, we will see how each person has made their home into something more with the Surface Laptop Go."
Kristelle "Kelsey" Laroche, Director, represented by Florence Productions
"I absolutely love shooting with real families; it always leads to sincere and relatable moments. Because of COVID, it was important that everyone in the spot had been quarantining together, so it actually worked out very well. As a documentary filmmaker I like to let scenes unfold naturally, which was perfect because this campaign was designed to capture the excitement a family experiences when they are working or playing together in their home. The Microsoft Surface Laptop Go has a touch screen which really delighted people; that was one of the many moments of genuine discovery and candid fun we captured in this campaign."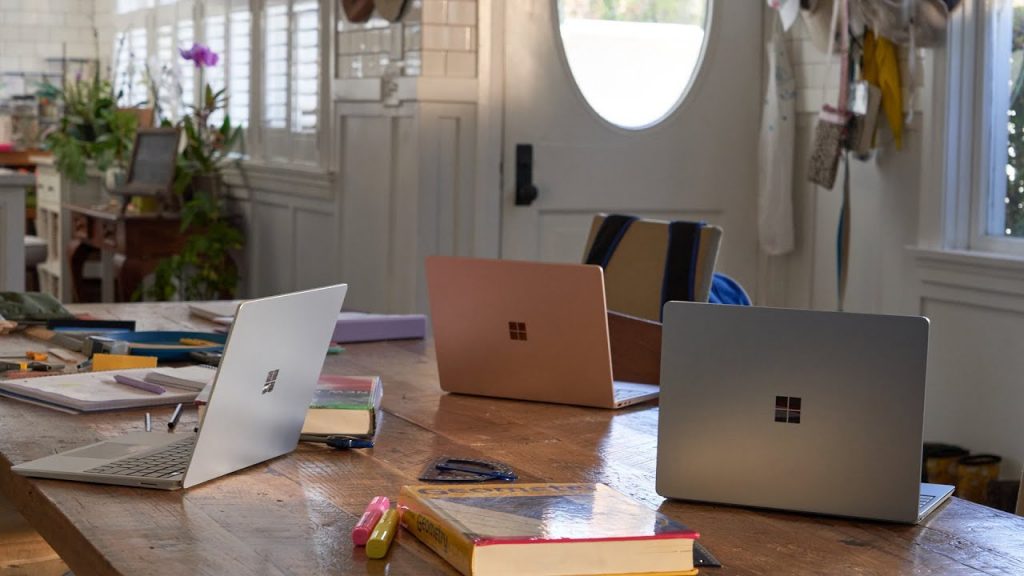 "Makeshift Spaces" Credits:
Client: Microsoft 
Agency: Blk-Ops 
Source: Blk-Ops