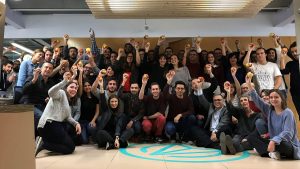 Mirum, a J. Walter Thompson Group business, has acquired a majority stake in Barcelona-based digital consultancy, KingEclient.
KingEclient provides services including digital transformation strategy, UX, digital marketing, design, development and analytics. Founded in Barcelona in 2000, KingEclient employs around 100 digital and technology specialists, with annual revenues in excess of €10 million.
The company has a particularly strong pedigree in financial services with sector clients including Deutsche Bank, PSN Group and Al Rhaji Bank. Other clients include Novartis and Naturgy. The combination with Mirum's existing financial services capabilities and clients creates a compelling
service offer for new and prospective industry clients.
Toby Hoare, European Chairman and CEO of J. Walter Thompson said: "Following the successful launch of Mirum in 2015, joining forces with KingEclient further enhances our digital offer for clients across Europe. It enables us to strengthen our commitment to the financial services vertical, which we believe has tremendous growth potential. Financial services businesses are undergoing a period of rapid change as they enhance and unify their customers' experience across all channels – Mirum is ideally placed to support them on that journey. We are thrilled to welcome Javier and the KingEclient team to Mirum and the J. Walter Thompson Group, and we know our clients will be excited to start accessing the wealth of experience and energy they have to offer."
Javier Aguilar, CEO of KingEclient said: "We are very proud to join Mirum and look forward to further enhancing their digital capabilities. They are a world-class team consistently exceeding clients' ambitions with the most innovative and effective solutions. We look forward to achieving our best work yet together."
Source: Mirum