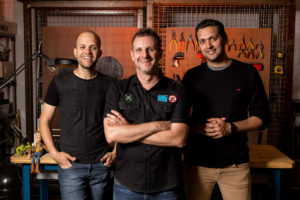 Pedro Gravena (formerly of Y&R, FCB, W+K, and DM9DDB), Estêvão Queiroga (formerly of NBS, DM9DDB, and Isobar) and Olímpio Neto (CEO of PetitFabrik) have created MOSH to bring a new concept to the Brazilian market: an agency focused on Creative Tech.
The partners were behind some of the most innovative and award-winning cases in Brazil in recent decades, such as "Speaking Exchange", "Nivea Dolls", "Skank Play", "Reality Advertising" for Super Bonder, "Human Processor" for Intel and "T-Racer"for Fiat.
"Projects with technology at their centre can no longer be the exception when creating a brand. We were always a department of the agency, now, our idea is to be an entire agency thinking innovatively about each project," said Pedro Gravena, Chief Creative Officer of MOSH, together with Estêvão Queiroga.
"Gravena and I worked together at Isobar a few years ago. Our idea to create an agency 100% focused on innovation is an old one, yet we believe that now the moment is right for us to turn this idea into a reality. The market is being transformed in the midst of a dilemma between tech consultants and traditional agencies. MOSH is a response to this dilemma, uniting advertising experience with technological development processes," Estêvão added.
To meet this demand, the agency was launched with a structured ecosystem: a team of programmers, creative minds, and an integrated transmedia producer. These, according to the agency, are fundamental elements needed to offer modern, effective communication based on data, as well as offer the creativity that solves clients' daily issues.
According to Olímpio Neto, one of MOSH's partners, the agency they are creating is bringing cutting edge technology partnered with a creative team, to the market. "This is what all communication groups and large consulting firms are doing globally. The difference is that we started the agency like this. This manner of creative tech thinking is already a part of who we are, so we don't need to adapt or adjust our structure," he added.
Responsible for client relations and new business, Olímpio is founder of the studio PetitFabrik and represents the type of production built into MOSH's DNA. Together with Estêvão, he has developed projects for clients such as Samsung, Facebook, PlayStation, Kumon and Philco in recent years, working with creative and with the production of games, apps, VR, AR, films, and animation. In addition, he has worked on entertainment and technology projects for several years. Next year, he will launch a children's series, an MM game, and a feature film.
"This is an example that shows that a background in technology production and entertainment, together with Gravena's unique experience, as he is one of the most innovative and award-winning Brazilian advertising professionals, will allow the new agency to offer very interesting proposals to brands looking for new ideas," explained Olímpio.
The agency has entered the market with clients who believe in this new format. One such client is EdgeMakers, an education startup headquartered in Silicon Valley and founded by Jhon Kao, one of the world's most important innovation consultants. Another such client is Alcatel, who entrusted all of its communication to the agency.
"In MOSH, we found an original and modern way of thinking about communication, a way that is not restricted to any one format and that, like Alcatel, dominates technology and creates new connections with its customers," affirmed Fernando Pezzotti, president of Alcatel.
The partners said they use the word "agency" for lack of a better word, stating that a unique mix of creativity and production capacity makes MOSH much more than a mere agency or production company. "We are a type of creative system that builds platforms from idea to execution. We believe that a platform can be a physical event, a game, or an app, but the concept underlying all of these is the same: seek out new ways to connect brands and consumers through technology," commented Pedro Gravena.
Source: MOSH