New Balance unleashes a style revolution with its cutting-edge, artificial-intelligence-led activation to promote its new women's shoe.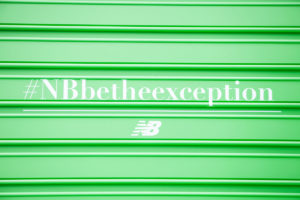 Created with experiential innovation agency, Wildbytes, and media agency, Roldós Media, the bold launch event uses AI software to spot fashion-forward individuals who challenge industry conventions. In line with the maverick spirit of the new Fresh Foam Cruz Nubuck, the event celebrates and rewards fearlessly independent fashionistas and encourages women everywhere to be their own muse.
The spectacular activation involves a complete takeover of Madrid's central Callao Square – one of the most visited squares in Europe. Throughout the event, custom-built AI software scans passers-by and picks out individuals who are sporting exceptional looks.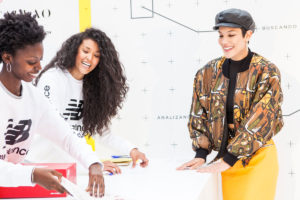 They are transformed into fashion stars as paparazzi rush to photograph them and they are displayed live on the huge LED screens surrounding the square. New Balance ambassadors then escort the trendsetters to a VIP lounge, where they are gifted the new shoes and interviewed by influencers about their unique style.
To bring the ambitious concept to life, Wildbytes developed AI software based on machine learning to gather data on how people dress in Madrid. They programmed the software to analyse over 50-hours of street camera footage to determine what percentage of the public wear certain patterns, colours, or types of garments.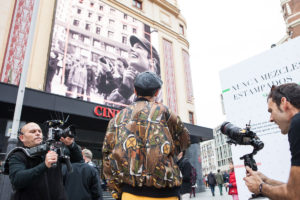 Finally, these statistics are used at the event to hunt exceptions to the rule and provide real-time data, overlaid on Boomerang footage, explaining why these individuals have been chosen.
The activation required numerous innovation solutions. Since the event occurred across both day and evening, Wildbytes had to craft a smart approach to the camera and software, so that the software could still identify style patterns even in reduced light conditions.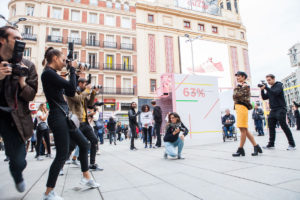 "The idea of 'exception-hunting' using AI was initially unveiled at the brilliant New York launch during Fashion Week. The Madrid launch is the biggest by far, so our challenge was to create a more impactful and wider-reaching experience whilst preserving the unique DNA of the original New York event. Thanks to the fact that New Balance Iberia considers women's empowerment key, we were able to push the activation to the next level as the campaign was really aligned with the brand values," Laia Zanon, Director of Creative Production at Wildbytes, comments.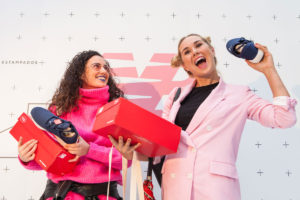 "With the larger scale of the Madrid activation, we wanted to make sure that it's engaging for everyone involved – even if they aren't chosen as the exception. To increase participation, we created and installed three stunning, interactive booths as a call to action that works hand-in-hand with the campaign's social media strategy. Anyone can take selfies with these and post them online with the #BeTheException hashtag to enter the AI-driven online competition."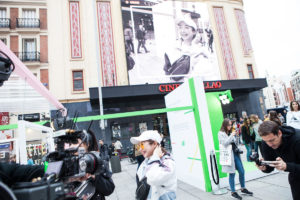 Marketing Director at New Balance Iberia, Daniel Scheidgen, comments: "Once again, New Balance leverages technology and innovation as a way to express the singular brand's DNA. This time, we set out to reward urban and independent women whose exceptional styles do not follow trends. Through an activation and campaign completely out of the ordinary, we utilised technology to tell the story of New Balance's rich legacy and exciting future. #BeTheException innovates while celebrating the exceptional style and attitude that we love to see reflected in our clients."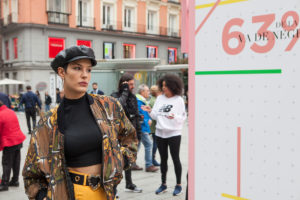 Account Director at Roldós Media, Carolina Santiago, comments: "We are really happy to be part of the team to bring this incredible New Balance campaign to life. The aim of this great initiative is to empower the exceptional woman in us all and to put her in the spotlight. Without a doubt, Wildbytes was the best choice for this challenge."
The activation was carefully choreographed through a series of online and offline touchpoints that build anticipation and social media buzz across the launch period. To begin, New Balance's social channels were mobilised by getting select Influencers to take over the brand's Instagram and curate their own 'exception-spotting' examples from across the nation.
The launch event will be followed by small-scale replicas in New Balance's retail spaces.
Source: Wildbytes