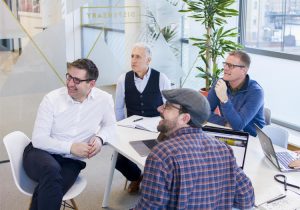 A new digital marketing agency has launched in Bristol bringing together the very best in British creativity and US technological expertise.
Noble Digital Marketing is an exciting joint venture (JV) between Bristol-based creative agency Mr B & Friends and Noble Studios, headquartered in Nevada, US. The JV follows a nine-month strategic collaboration where Noble has worked with the Mr B & Friends team on a number of their client projects.
Simon Barbato, CEO of Mr B & Friends comments: "We met the Noble team just as they were establishing their new office here in Bristol last year. Circumstances enabled us to collaborate on many projects, and as well as really enjoying their culture, their capability in the digital performance marketing space is unparalleled and far more sophisticated than we have seen in our domestic market so far. The results for our clients we have jointly achieved have been fantastic and therefore, making the relationship formal and accelerating this valuable service to our entire client portfolio was inevitable."
Noble will focus purely on digital performance marketing; search engine optimisation (SEO), search engine marketing (SEM), paid advertising and social, conversion rate optimisation (CRO), advanced analytics and content marketing. The firm has a 15-year track record of digital marketing excellence that earned accreditations including being both a Google Premier Partner and BrightEdge Certified Partner.
The newly formed company will continue to work with existing UK clients in the technology, software, manufacturing, financial services and IoT sectors.
Jarrod Lopiccolo, CEO of Noble Studios added: "This partnership will allow our firms to continue focusing on our unique strengths which combine driving the right message, creative, and channel strategy to maximum impact. Digital marketing requires both the right skillset with a dogged focus on optimisation as consumers interact with your brand online. We strive to be better every day with our clients."
Noble will be located in Mr B & Friends' new Temple Quay office and will be headed up in the UK by Client Success Director Kate Sikora who relocated from Noble's US HQ to open the Bristol office. The company will be owned and managed by the respective Boards of Mr B & Friends, Noble Studios and Sikora.
Source: Mr B & Friends