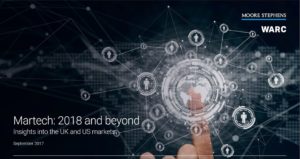 New research assessing the current and future state of the martech industry, has found that the UK and US martech market is growing exponentially as demand for new tools continues to rise.
The survey released on September 12 by Moore Stephens, the top ten global accountancy firm, and WARC, the global authority on advertising and media effectiveness, questioned more than 500 UK and North American brands and agencies, and confirms a burgeoning martech industry.
The results show that on average, brands are spending 16% of their marketing budget on marketing technology. The research also reveals that the size of the martech industry for the combined UK and US markets is estimated at $34.3bn.
Marketers are most likely to be using a martech tool for email, with 85% currently doing so. The majority also use social media and CRM tools, whereas experience optimisation and collaboration tools are currently used by around a third (37%). However, both of the latter are set for a significant rise; the survey reveals an additional quarter will invest in experience optimisation and collaboration tools in the next year.
Investment demand is driven by dissatisfaction: half (50%) of those polled state they don't have the tools they need. When analysing by agency vs brand, six in ten (58%) agencies stated they don't believe their clients have what they need and don't fully utilise the martech tools they do have.
Reflecting this, many businesses are looking to increase the investment in marketing technology: nearly half (46%) of the UK businesses and more than one in three (38%) in the US are looking to increase their investment in the next 12 months. Only 7% of US businesses and 4% of UK firms are looking to decrease.
When considering what holds marketers back from implementing martech tools, limited budget is unsurprisingly the biggest barrier, with 42% stating so. For marketing and communications agencies, 57% said that the main barrier to investment is a lack of understanding of the marketing technology available. This is compared to just a quarter (25%) of brands polled.
Commenting on the findings, Damian Ryan, Partner, Moore Stephens, said: "We carried out this research to better understand the size of the market and the drivers behind its growth. It is only recently that martech has been given its own name, having previously been engulfed by the adtech umbrella. The growth of the market shouldn't come as a surprise to brands, agencies or anyone in the media industry. We are entering a new chapter of business, one that will be governed by trust and economic common sense."
"While the rise of digital has been utterly spectacular, it has brought about widespread mistrust in the marketplace and channels that underline its success. We've seen the phenomenon that is fake news, as well as adblocking and a general worrying absence of transparency. These are just some of the drivers leading organisations to invest in technologies to provide a greater sense of control. Martech is growing and we see it as the industry to watch for the foreseeable future for investment and product innovation alike," continued Damian.
Amy Rodgers, Research Editor, WARC, said: "The marketing technology market has grown at a phenomenal rate over the past few years as marketers are required to do more, at a faster pace, than ever before. Tools that can assist or automate parts of this job are in high demand, especially as the evidence for their return on investment grows. This research indicates that martech use in the UK and US is set to grow by 10% over the next year, a strong indication of the strength of a market that is continually consolidating and diversifying."

A summary of the martech report is available here.
Source: WARC