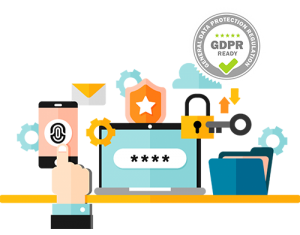 New research released by TransUnion (formerly Callcredit) has revealed only half (50%) of marketers felt confident they were fully compliant at the time of the GDPR deadline on 25 May 2018. As a result, marketers had to remove nearly a quarter (23%) of marketing records to achieve compliance, but just under three-quarters (73%) of marketers now feel they have a far cleaner database.
The study was carried out with 100 marketing decision makers in the UK to understand the impact of GDPR on their operations and their overall approach to using consumer data in marketing.
The findings revealed that two-thirds (63%) of marketers feel they are now more effective in their sales and marketing, but becoming GDPR compliant came with a host of challenges.
43% report that training their marketing team on data handling guidelines has been the biggest challenge and over a third (38%) said they struggled with their restricted access to consumer data.
Commenting on the research, Ryan Kemp, business development director at TransUnion said: "The introduction of the GDPR clearly brought challenges for marketers, and it's no surprise that many businesses weren't fully compliant by the time the deadline fell. However, despite the difficulties, the new regulation has changed the way marketing teams operate for the better. The modern marketing team now better understands the need to carefully manage and use data, which will enable them to drive truly actionable insights to improve customer interactions."
Marketers have had to alter their internal marketing function, with 67% having defined new data management policies. More than half (53%) have implemented new data systems or customer engagement tools, whilst 42% have hired a data protection officer or team. Over a fifth (22%) have been working more closely with their executive leadership team to implement the new regulation, which can lead to significant fines and reputational damage for companies that don't comply.
Kemp continued: "The GDPR has fundamentally changed the way businesses interact with their data – with the legislation resonating well beyond its European reach in today's global marketplace – and it's reassuring to see that many organisations are realising the benefits of the changes. To remain compliant, it's essential that marketers continue to educate and train staff, as well as aligning their internal processes. The results can include more effective communications, as our research has shown, as well as an improved customer experience and far greater customer loyalty."
TransUnion offers a range of marketing data solutions that can help businesses manage their data effectively, as well as enabling them to identify potential new clients using expansive data, including geodemographic insight.
Source: TransUnion