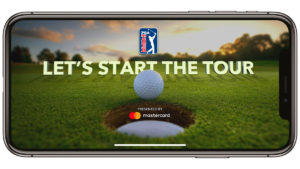 The PGA Tour introduced PGA Tour AR, a brand new augmented reality (AR) app bringing live AR tournament coverage to life for fans around the world on their iPhone and iPad. Live AR coverage on PGA Tour AR will begin in conjunction with the opening round of the Arnold Palmer Invitational presented by Mastercard on Thursday, March 15. The app is available for free exclusively in the App Store.
Mastercard is the Official Launch Partner of the PGA Tour AR app that will feature exclusive branding within the AR app and will showcase the app in fan areas at Bay Hill Club.
"Exploring unparalleled technologies like AR helps the PGA Tour reach new audiences around the world," said Rick Anderson, PGA Tour Chief Media Officer. "Tapping into ARKit in iOS 11 allows us to showcase real-time data provided by ShotLink and CDW in a rich, visual way for fans. The PGA Tour takes pride in bringing new technology to the sports world as a way of communicating to a large, diverse audience."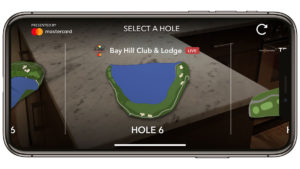 PGA Tour AR puts augmented reality golf experiences into the hands of hundreds of millions of iPhone and iPad users, allowing fans to interact with 3D featured holes and live 3D shot trails on any flat surface right in front of them. On featured holes throughout the season, fans will be able to select their favourite player on the golf course, compare shot trails from each round and compare the shots of different players. Starting at the Arnold Palmer Invitational, the featured hole is the par-5 No. 6, while the par-3 seventh hole at Pebble Beach Golf Links will be available for fans to go back and review shot trails from this year's AT&T Pebble Beach Pro-Am.
The Players Championship will feature Nos. 16, 17 and 18 live and in AR, and at the season-ending Tour Championship, East Lake Golf Club's No. 18 will be highlighted. The PGA Tour plans to add more holes from other tournaments leading up to the Tour Championship and ultimately plans to feature at least one hole at every tournament on the PGA Tour schedule.
"We are thrilled to partner with the PGA Tour in bringing live AR to fans this week at the Arnold Palmer Invitational," said Raja Rajamannar, Chief Marketing and Communications Officer, Mastercard. "Mastercard shares a common bond with the PGA Tour that revolves around innovation, and this technology aligns with our promise to our cardholders to provide Priceless experiences. We are excited about continued conversations on how the PGA Tour's AR app will rollout new enhancements and provide consumers from around the world a new way to engage with the game of golf."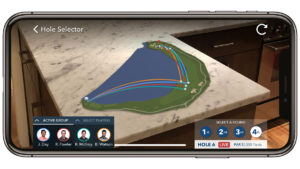 An update to the PGA Tour AR app later this year will enable an on-course AR experience where fans at a golf tournament can hold up their device in front of any hole and the technology will display shot trails for selected players live or during a past round of the user's choosing.
The development of the PGA Tour AR app in collaboration with POSSIBLE Mobile, part of the creative agency POSSIBLE, was aided by existing data gathered by ShotLink powered by CDW, the Tour's longstanding state-of- the-art scoring system. ShotLink through CDW technology captures and reports real-time vital information on every shot, by every player, during tournament competition. Every shot is translated into thousands of statistics, changing the way fans watch – and now interact with – the PGA TOUR, bringing them closer to the action. ShotLink and CDW's vision is to turn data into information, information into knowledge, and knowledge into entertainment.
"This app empowers us to creatively display and share data captured by ShotLink and CDW with fans in an entirely new way," said Devon Fox, PGA Tour Director, Digital Platform Innovation, who was recently named as one of the Top Women in Digital by Cynopsis. "Utilizing the biggest AR platform in the world, we can instantly reach millions of new golf fans around the world in an exciting and fun style."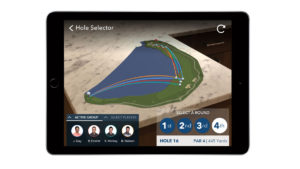 The PGA Tour AR app was built using ARKit in iOS 11 to provide immersive AR experiences for the game of golf. ARKit helps app developers like the PGA Tour blend digital objects and information with the environment, taking apps far beyond the screen and freeing them to interact with the real world in entirely new ways.
The Tour is considering several enhancements within the PGA Tour AR app for fans who attend tournaments to help them locate their favourite venues, merchandise locations and concession stands, or finding their favourite player on the course. This allows the Tour and its partners to develop creative ways to interact with fans to form a more enjoyable on course experience. As the technology progresses, the Tour expects to work with sponsors to display their brands within the app in innovative ways. Possible enhancements include creating custom AR experiences such as displaying branded venues on each hole, video boards that show highlights from the event, or giving fans the opportunity to take full 360 views of a product.
"New technologies are exciting, but only if they can add a new and valuable dimension to an experience," said Ben Reubenstein, CEO, POSSIBLE Mobile. "Golf is a perfect fit for leveraging augmented reality by providing a cutting-edge way for fans to interact with the sport."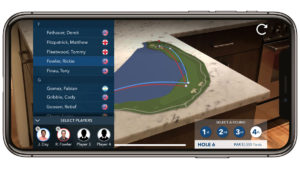 PGA Tour Innovation Highlights
The PGA Tour AR app is part of a broader goal for the PGA Tour to be a leader in sports innovation with a goal of reaching new fans globally. The Players Championship in 2017 marked the first time a major sports event distributed a live 360 VR experience on Twitter.
Following The Players, the PGA Tour and Intel announced an exclusive relationship to produce and globally distribute live virtual reality (VR) and live 360 video via Twitter at six PGA Tour events in 2017 and 2018. The Tour Championship and Presidents Cup in 2017 featured live VR coverage along with the 2018 Waste Management Phoenix Open. The next live VR experience will be in May at the Jack Nicklaus-hosted Memorial Tournament.
The collaboration between the PGA Tour and Twitter follows an innovative live streaming relationship first announced in 2016. Early round global distribution of PGA Tour LIVE coverage is viewable weekly on Twitter via @PGATOUR and live.twitter.com/PGATourLive.
The PGA Tour was also the first sports league to have a virtual reality app on Oculus Platform and the first sports league to develop a unique experience for Amazon Echo.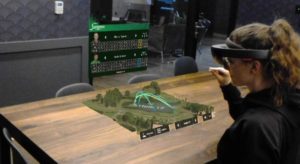 Recently, the Tour released the PGA Tour Hololens app, which is available for free in the Microsoft store. The hololens app integrates post round data from Shotlink and CDW to create a 3D model of TPC Scottsdale that can be displayed on a tabletop or any flat horizontal surface.
Users can zoom in to view the details of any hole and compare how two players performed on a hole from the Waste Management Phoenix Open. Fans can also view heat maps of most ball traffic on a certain hole along with real time weather in Scottsdale.
Source: POSSIBLE