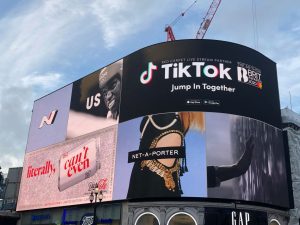 Last night TikTok, the leading destination for short-form mobile video, activated a live-stream of the BRIT Awards red carpet to Piccadilly Lights, Europe's largest digital OOH screen which dominates London's skyline. The live stream took place at 5.30pm and brought the buzz of the red carpet to the heart of the West End to deliver the excitement of the awards for those who couldn't be there in person.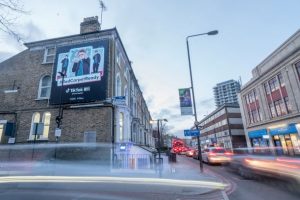 Also kicking off on the night were 30 large-format projections in and around the city, announcing TikTok's partnership with the BRIT Awards. User images from TikTok's popular #redcarpetready hashtag challenge were featured alongside the call to action to "Watch the BRITS red carpet, live now on TikTok."
These event day OOH executions support art murals, digital OOH activity, and large-format banners that have been used to build anticipation in the run up to the UK's biggest music event, including a building wrap featuring BRIT Award nominee Lewis Capaldi in Glasgow city – a nod to the artist's hometown.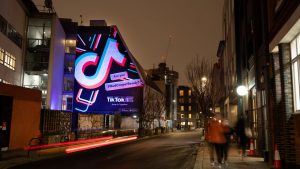 The OOH campaign was created by Ogilvy and planned and booked by Talon and Hearts & Science. It supports a broader campaign executed by Hearts and Science which includes two tv spots running during the Brits live show. TikTok will also have a significant presence on digital channels with video amplification and skins running across Spotify, Vevo, Global and Ladbible.
Jana Ulaite, Head of Brand Marketing Partnerships at TikTok said: "TikTok's global community is recognised for its passion for music and creativity and our collaboration with the BRIT Awards allows us to give our users intimate access to Britain's premier music event red carpet, as it happens, live on their smartphones and OOH.
"The OOH campaign perfectly mirrors that commitment by bringing the joy, buzz and hype of the awards, the featured artists, and thrill of the red-carpet arrivals, directly to the streets of London for people to experience while they are out and about in town."Emily Hyne, Business Director, Talon added: "To celebrate their partnership with the BRIT Awards, TikTok wanted a campaign that delivered true stand out. By taking over London's iconic Piccadilly Lights, and creating a series of executions that use unique OOH formats and locations, we have created a cut-through campaign that immerses the capital in the buzz and excitement of Britain's most renowned music event."
Source: Talon