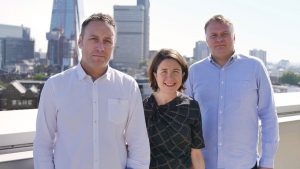 Proximity London has strengthened its marketing transformation offering with three new senior appointments. Dominic McElroy joins as marketing transformation director from Digitas UK, Kate Amos joins as martech-focussed strategic data director and internal talent Matt Ingram is promoted to data and technology partner in a newly created role.
McElroy is an expert in building and executing marketing transformation strategies and has over 15 years of experience leading both agency and client side teams. With a track record of fusing data, technology and people, he has created customer propositions that deliver both business value and behavioural change for clients including the Renault-Nissan alliance, the National Trust and AstraZeneca. Prior to Digitas UK he held roles at dunnhumby and consumer electronics retailer Best Buy Europe.
Working alongside McElroy will be Kate Amos, who joins the agency as strategic data director from Wunderman, and Matt Ingram, who has been promoted from data director to data and technology partner.
These hires coincide with a major holding group acquisition of Credera, a 300-strong management and marketing technology consultancy.
Gabrielle Ludzker, chief executive officer at Proximity London comments: "At a time when more and more of our clients are launching their marketing transformation programmes, we are thrilled to welcome some of the best talent in the industry to join our existing team. These new roles on top of the group acquisition of Credera means we are fully equipped to consult, accompany and drive our clients' business transformation projects to success. Combined with our rich heritage in data-driven creativity, we believe our end-to-end capability is ideally set up to address the current client challenges."
McElroy adds: "Proximity London has a great pedigree in creating customer experiences that are both data-driven and highly creative, which are two of the key ingredients for successful marketing transformation. So, I'm excited to be joining the team and adding a new perspective to how we transform marketing operations to deliver highly effective creative campaigns."
Source: Proximity London