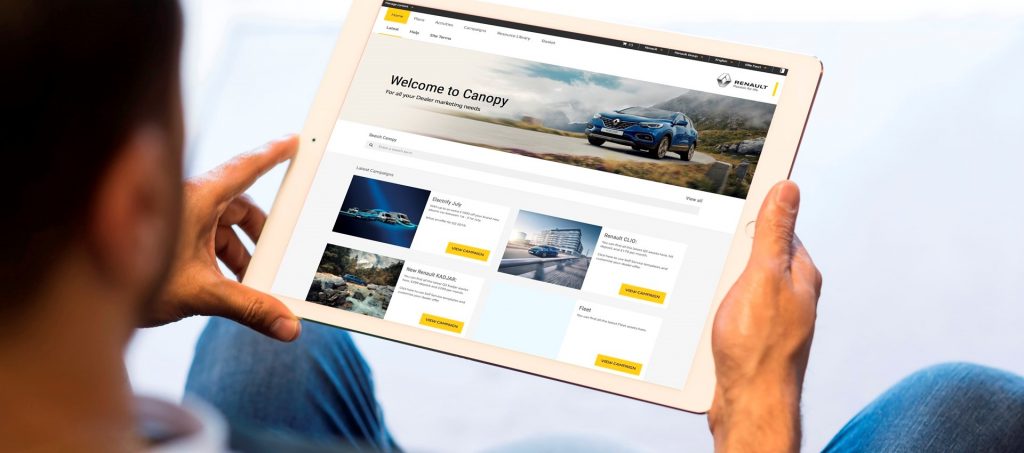 With a blended model of people and technology, highly reactive onsite and 24/7 offsite resources, the appointment is designed to deliver efficiencies and create a fast, agile partnership enabled by Team ITG's transformational marketing, Canopy.
Canopy has already captured the hearts and minds of the Renault Groupe, driving huge savings and efficiencies, such as a 98% reduction in planning time, by replacing manual processes with enhanced automation. Cloud-based and powered by a hyper-advanced DAM, Canopy is intuitive, elegant and has made multichannel mayhem a thing of the past for Renault.
With all marketing assets available in one place, each dealership across the network can create, amend and deploy localised on-brand collateral across the globe with ease. What was taking Renault teams three days, is now achieved in just 90 minutes.
Renault's Marketing Director Adam Wood commented: "Canopy is now the hub for every aspect of marketing within the Renault Groupe due to its simplicity and complete ease of use, allowing brand compliance and powerful localised activation."
Simon Ward, founder and CEO of Team ITG said: "We're on a mission to liberate marketers. Our blended model of technology and services allow us to rapidly deploy bespoke solutions built around individual client needs, delivering efficiencies and creating fast, agile marketing partnerships."
Source: ITG